15 Adorable Outfit Ideas for Christmas to Shine This Season
Whatever your Christmas plans, we have the ideal festive attire for you. The best season of the year is here! (Well, nearly.)
The Christmas season is full of enjoyable activities and celebrations, all of which call for adorable clothing, of course. These activities range from decorating the tree to wrapping presents to listening to Mariah Carey.
The last thing you need to worry about this holiday season is what to wear, so I've gathered 25 outfit options for you to wear on Christmas, whether you're going to a lavish party or just watching Christmas movies on the couch.
Whatever your plans are, these festive outfits will get you in the Christmas spirit without making you sacrifice your sense of style. Prepare to be the best-dressed guest at any holiday event by reading on for the cutest Christmas wardrobe ideas for 2022.
Sweater Dress For Christmas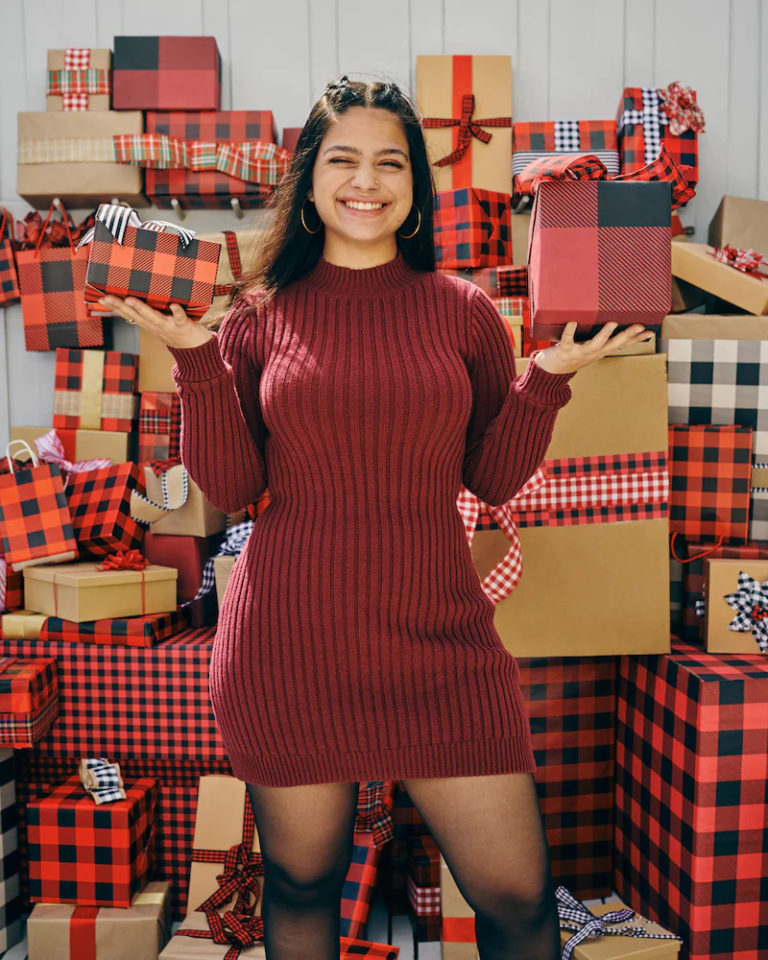 On Christmas, nothing goes wrong with a red sweater dress that you may pair with knee-high or ankle-high boots. Green is another color option for this mock neck mini dress, and it would look just as adorable for the occasion.
Adorable Christmas Outfit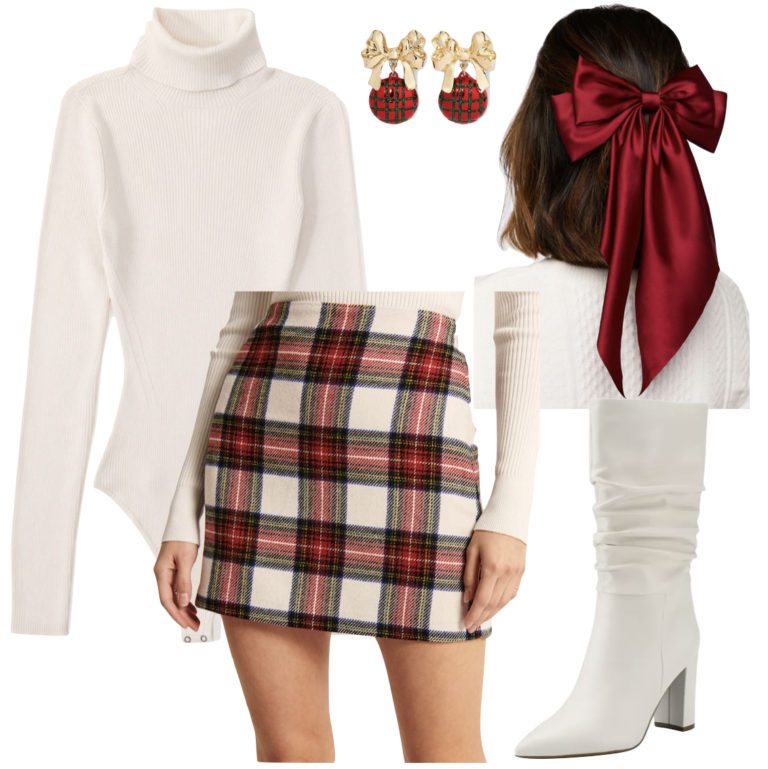 Wear a traditional plaid miniskirt in red, white, and green for a festive look this Christmas. This timeless ensemble is the epitome of the Christmas season, whether you're exchanging gifts, attending a family gathering, or taking holiday photos.
The skirt looks amazing with a white ribbed turtleneck bodysuit, which will also keep you warm and cozy. Dress up the ensemble with some ivory-colored, high-heeled boots (you can also wear tights if desired).
Wear some extra-festive accessories, such as these charming Christmas ornament-shaped earrings and a red satin hair bow barrette, to enhance the look's elegant, feminine feel.
Dress for Picking a Christmas Tree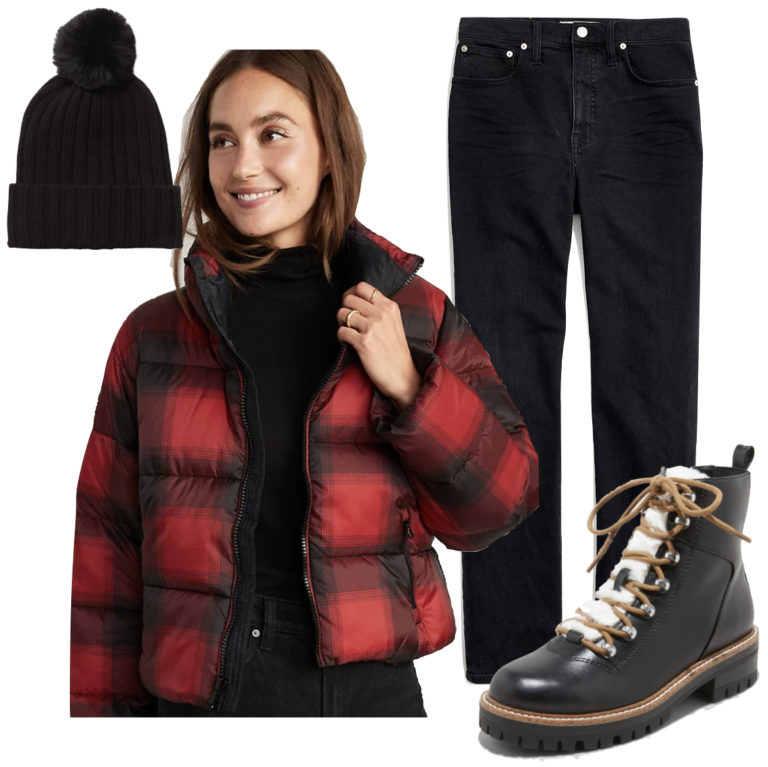 One of my favorite holiday customs is choosing a tree. If I'm being completely honest, though, I'll also make sure to take a pretty clothing photo. I'm sorry, but you have to admit that a tree farm provides a nice backdrop! But even if you don't intend to post a #ootd, you should still dress festively and comfortably for this enjoyable holiday activity.
It's essential to wear a puffy jacket and a knit pom beanie hat because it will probably be cold outside. This short puffer has a red and black buffalo plaid motif that I adore; it has a festive vibe to it, and, btw, it's water-resistant.
Wear it with some reliable lace-up lug-sole boots and some stretchy black straight-leg jeans or leggings. The flocked soles of this pair are perfect for going outside, and they have a warm faux shearling tongue for a wintry touch.
P.S. Depending on your intentions, this Christmas clothing design might also be worn on Christmas Day!
Cool Christmas Attire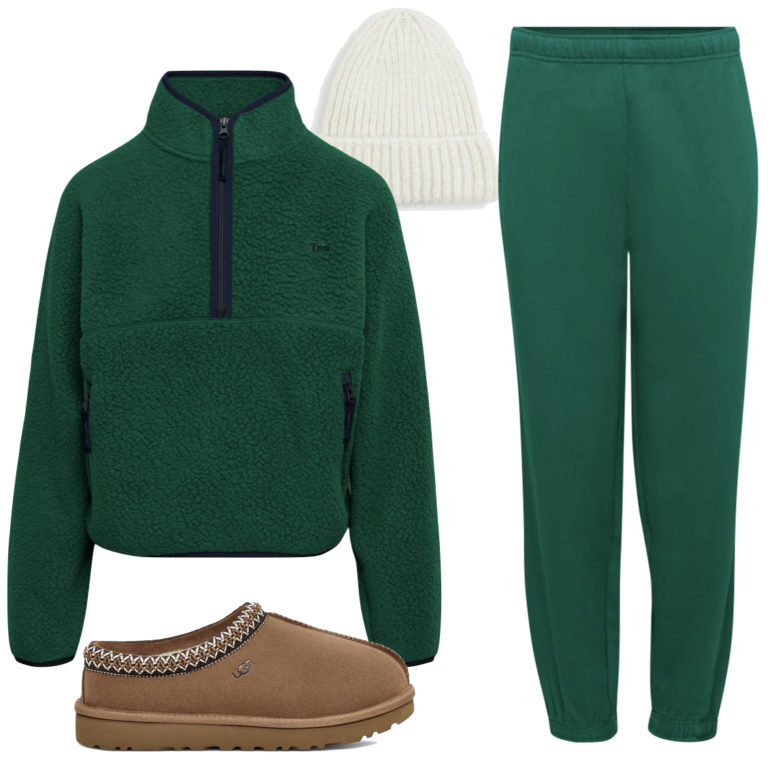 Keeping it calm this holiday season? Although you'll undoubtedly want to be cozy and comfortable if you're enjoying a really laid-back holiday, there is no reason you can't still look nice and put together.
You won't have to sacrifice style for comfort if you choose some green high-rise fleece sweatpants and a coordinating sherpa half-zip sweatshirt instead of wearing an old pair of mismatched sweats. The brilliant green color of both pieces feels festive around Christmastime but can also be worn throughout the fall and winter. It's appropriate for both class and a study session at the library. I'm all about adaptability!
The sheepskin-lined Tasman slippers from Ugg have taken over our Instagram feeds, and they would look great with this outfit, enhancing its comfortable yet fashionable vibe. Add a knit beanie hat as a finishing touch.
Fashionable Christmas Attire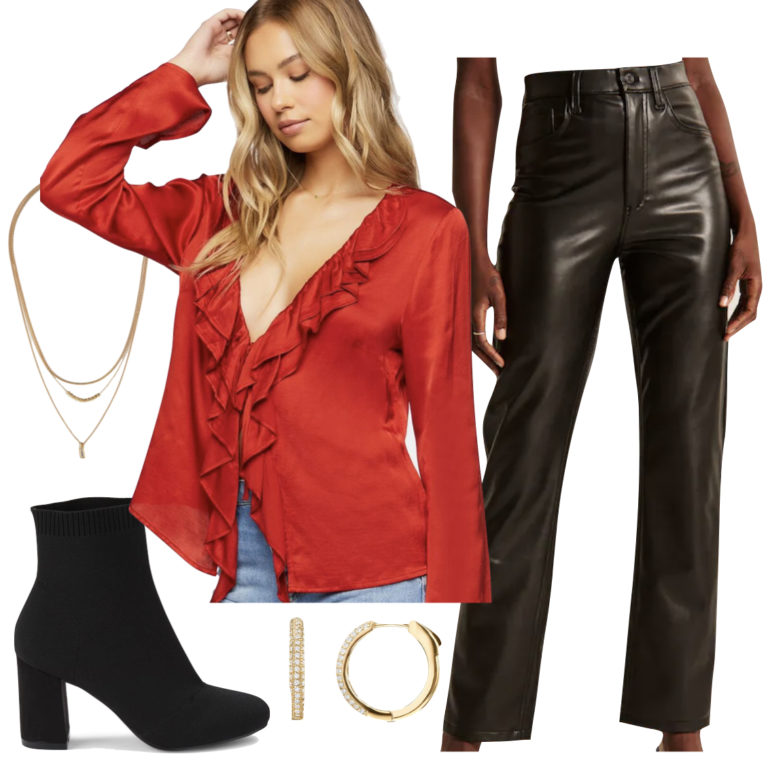 Christmas is the perfect time to show off your sense of style with a hip, festive appearance. With this outfit, you'll be one of the finest dressed at the dinner table whether you're celebrating with friends or family.
Wear some black straight-leg vegan leather pants with a bright red or green shirt; the faux leather of the pants contrasts beautifully with the shining red satin top's ruffled trim.
A stacked gold pendant necklace, some sparkling gold hoop earrings, and a pair of black ankle boots can dress up the outfit. The straight style of the pants will go especially nicely with this pair of heeled sock booties with ribbed cuffs.
Dress for a Christmas Party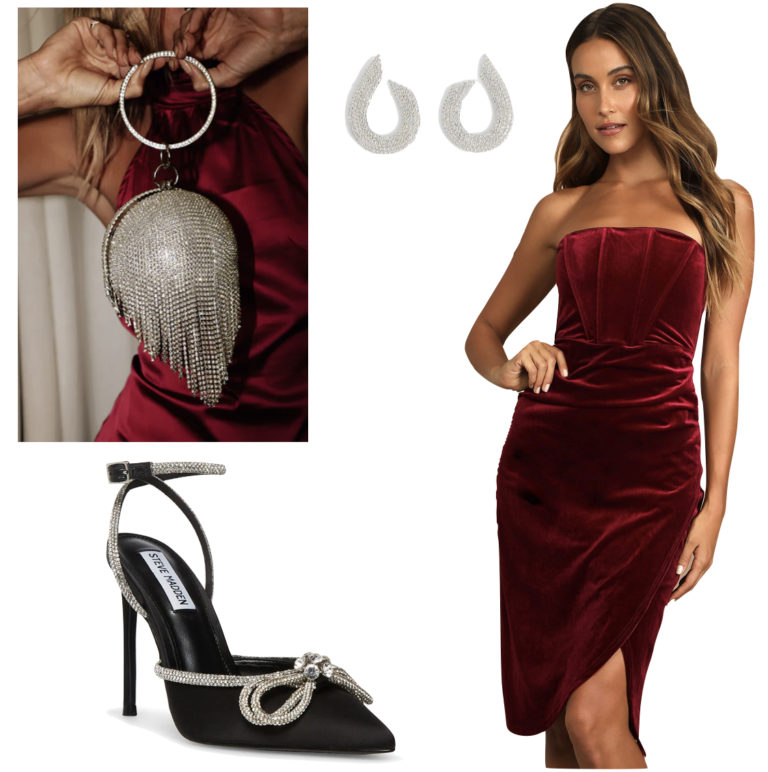 Unsure about what to dress for a formal holiday party? This is your time to go all out with a glam style that is dazzling and trendy for the season.
Due to its rich, heavy fabric, velvet always has a lux aspect and feels especially fitting throughout the holiday season. This red velvet strapless dress will therefore look stunning at a holiday party, and features like its tulip hem and attractive boning-filled bodice only serve to enhance its allure.
Oval pave drop earrings and a striking silver disco rhinestone bag with a bracelet strap are two sparkling accessories that are ideal for a night out.
But don't stop there; you also need a pair of rhinestone-encrusted heels, like these pointy-toe stilettos with sparkling ankle straps and bows.
Comfortable Christmas Outfit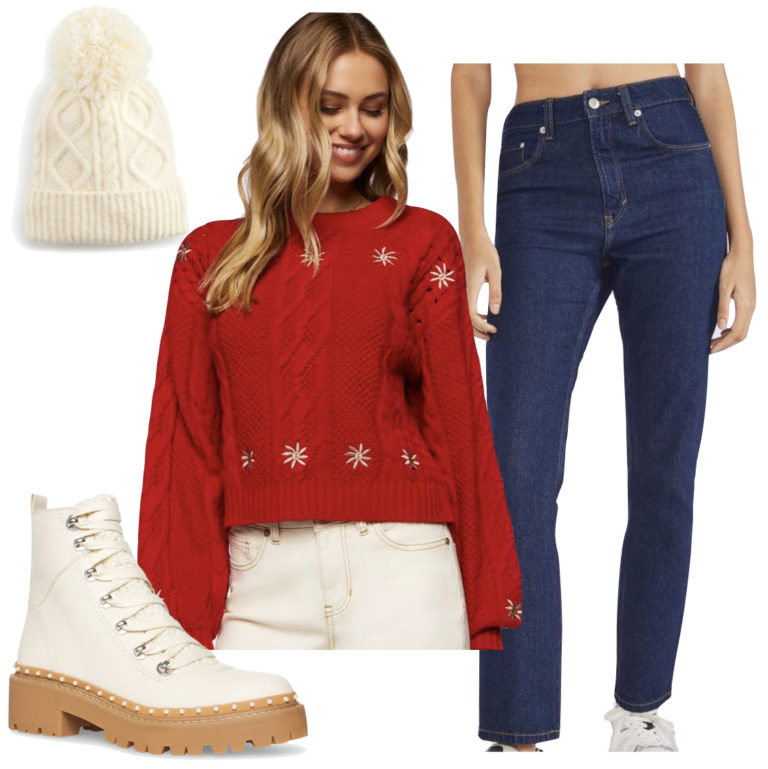 Try a lovely, casual Christmas attire while still getting into the holiday spirit if your Christmas activities don't call for much dressing up.
With its faux shearling boots and adorable embroidered sweater, this ensemble will make you feel as though you're strolling through a winter wonderland (or at least, should be). If you do venture outside, the ivory sherpa-lined cable knit beanie hat and the red cable knit sweater with white embroidery will keep you warm (but don't forget a puffer jacket, too).
Choose dark wash jeans with a straight legs; pair them with lace-up hiking boots with a hefty lug sole. This pair is a little dressier than the typical pair and is, therefore, better suitable for the holiday. They also have a shearling lining and fashionable pearl trim.
Elegant Christmas Attire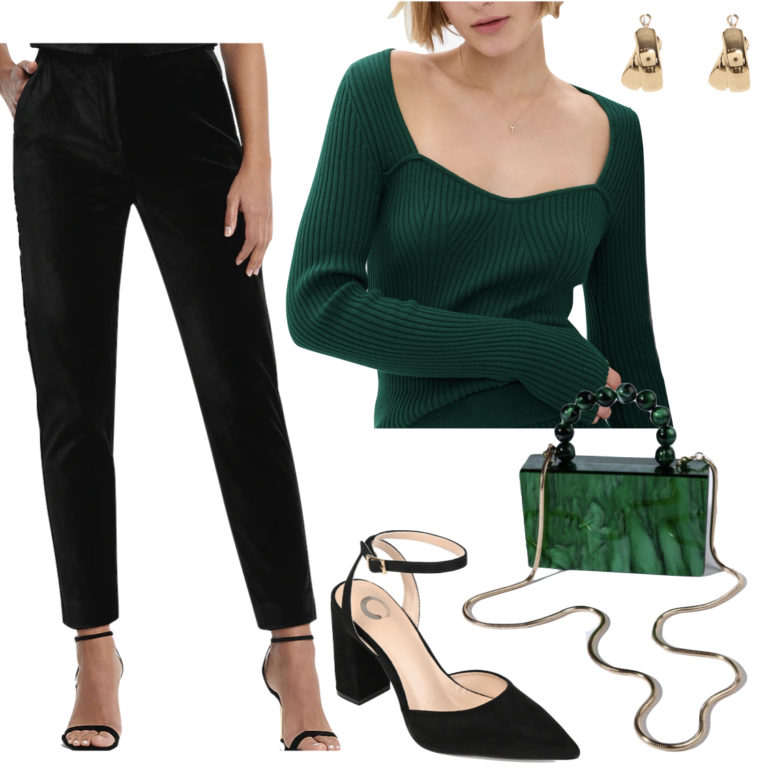 Try a black and emerald green color scheme, together with plush materials like velvet and rib knit, for a stylish Christmas outfit.
This lovely green ribbed sweater top with a flattering sweetheart neckline pairs perfectly with these elegant black velvet high-waisted straight-leg pants to create a sophisticated ensemble. Both of these products are adaptable additions to your wardrobe because you can use them outside of the holiday season.
With some black ankle-strap pointy-toe heels and gold double-hoop earrings, keep the ensemble classy.
What is the best feature of this outfit? This stylish green marbling tiny box bag with a gold chain strap and beaded top handle. It appears to be much more expensive than it is.
Leggings + a Cozy Christmas Outfit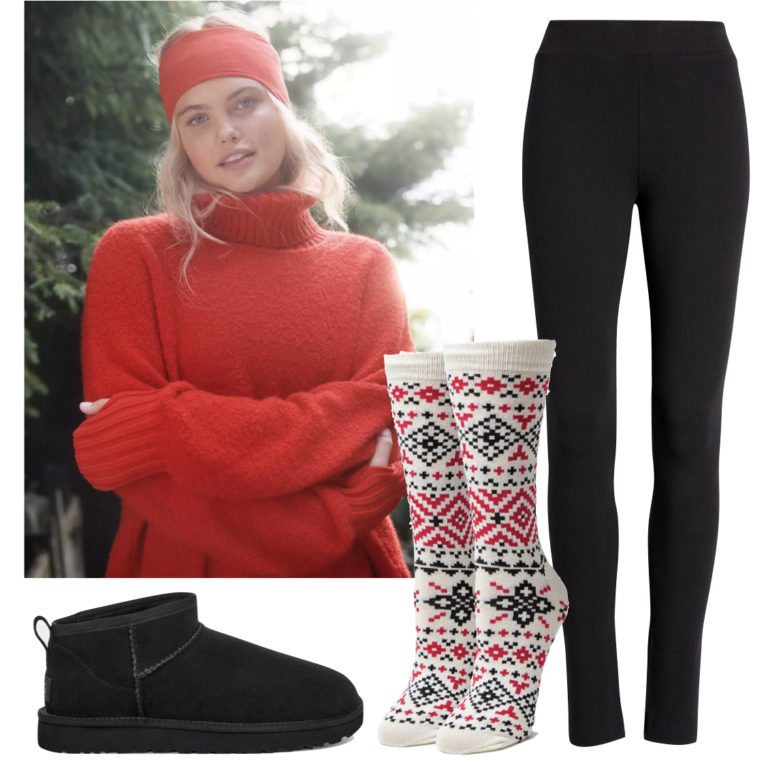 When your Christmas preparations are low-key, I say there's no shame in dressing comfortably and wearing leggings and Ugg boots!
This warm, comfortable ensemble will make your standard black leggings seem festive and fun whether you're lounging by the fireplace, enjoying a winter walk, or watching Christmas movies on the couch. Wear a voluminous red sweater; this one is perfect with leggings and has a soft boucle texture, a ribbed turtleneck, and contrast cuffs.
Keep the coziness going by wearing some gorgeous fair isle socks peeking out from below your leggings and a pair of Ugg Ultra Mini Booties (this pair links the outfit's color scheme together).
Simple Christmas Ensemble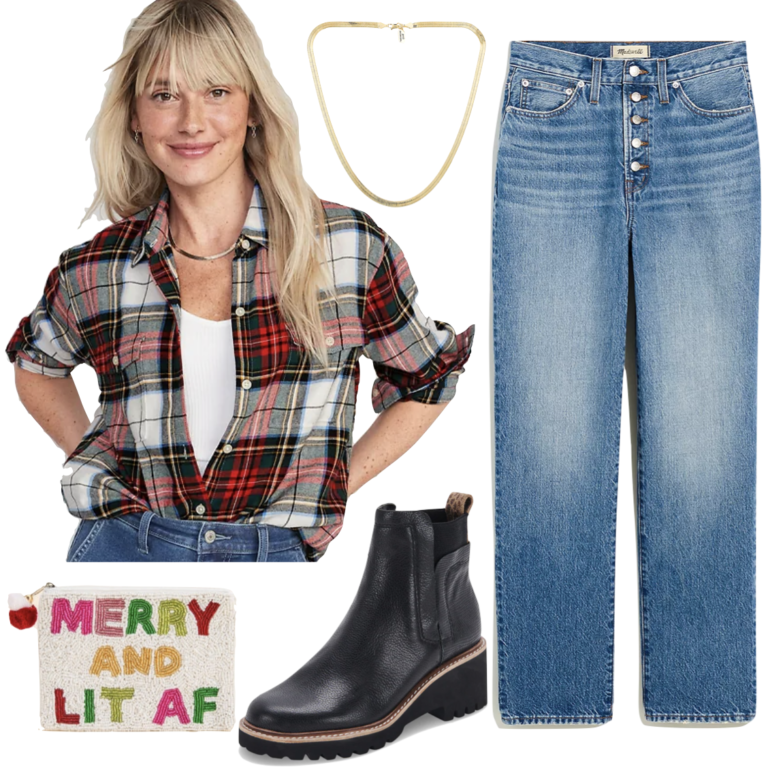 Want to look put together this Christmas but don't feel like making a big effort with your outfit? Try this easy, relaxed, yet adorable Christmas wardrobe suggestion that consists of a checkered shirt and jeans.
This flannel button-down shirt's checkered pattern includes red, white, and green, making it especially suitable for the holiday. Wear it loosely tucked into your denim for a more stylish look. Choose jeans with a straight-leg silhouette, an exposed button-front, and no rips for some extra flair.
A short-heeled pair of black ankle shoes with a day-to-night heel and a gold-plated chain necklace will instantly enhance the ensemble.
For an extra touch of Christmas, think about accessorizing with a cute beaded purse like this "Merry and Lit AF" pouch.
Christmas Boho Outfit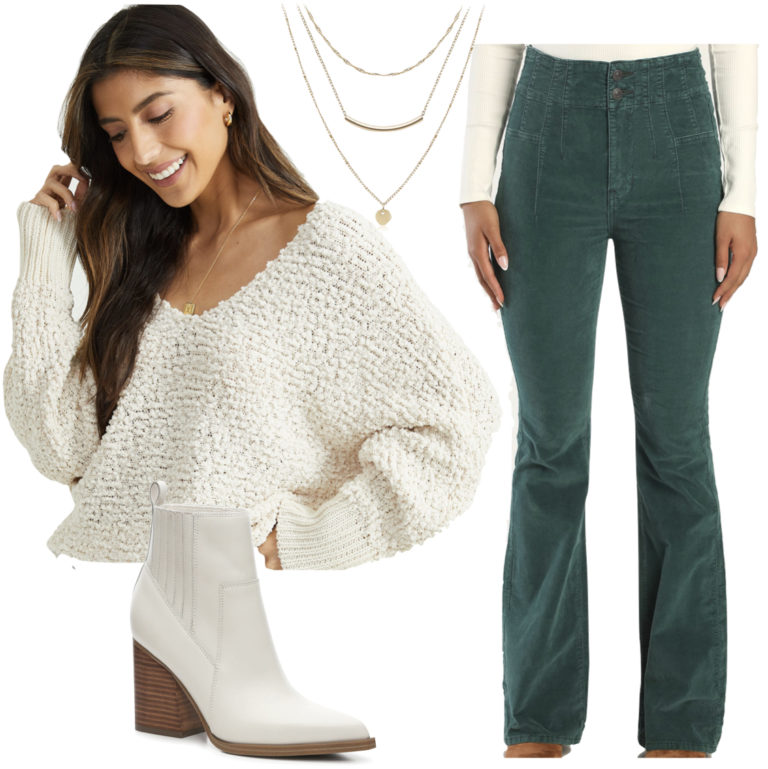 You don't have to give up your aesthetic for Christmas if your fashion sense leans bohemian. The retro vibe of these green corduroy high-waisted flared pants is unmistakable, and the hue is perfect for the occasion.
With an ivory sweater with a popcorn texture that looks quite comfortable, up the winter hippie vibe... Its texture also makes me think of snowballs.
Wear white ankle boots with a western-inspired pattern and a stacked gold pendant necklace as final accessories to complete this Christmas wardrobe concept.
Elegant Hanukkah Outfit
Wear a chic black and white houndstooth tweed dress over a thin black turtleneck top to celebrate Hanukkah in style. This adorable dress has a square neckline and frayed hems for a trendy take on a vintage style. (Of course, depending on the weather where you're celebrating, you can also wear it by itself.)
A headband with pearl and rhinestone embellishments will lend a sophisticated touch and the ideal amount of dazzle to the ensemble.
Add black opaque tights and square-toe ankle boots with a block heel to finish the look.
A Christmas Cardigan with a Mini Skirt made of Faux Leather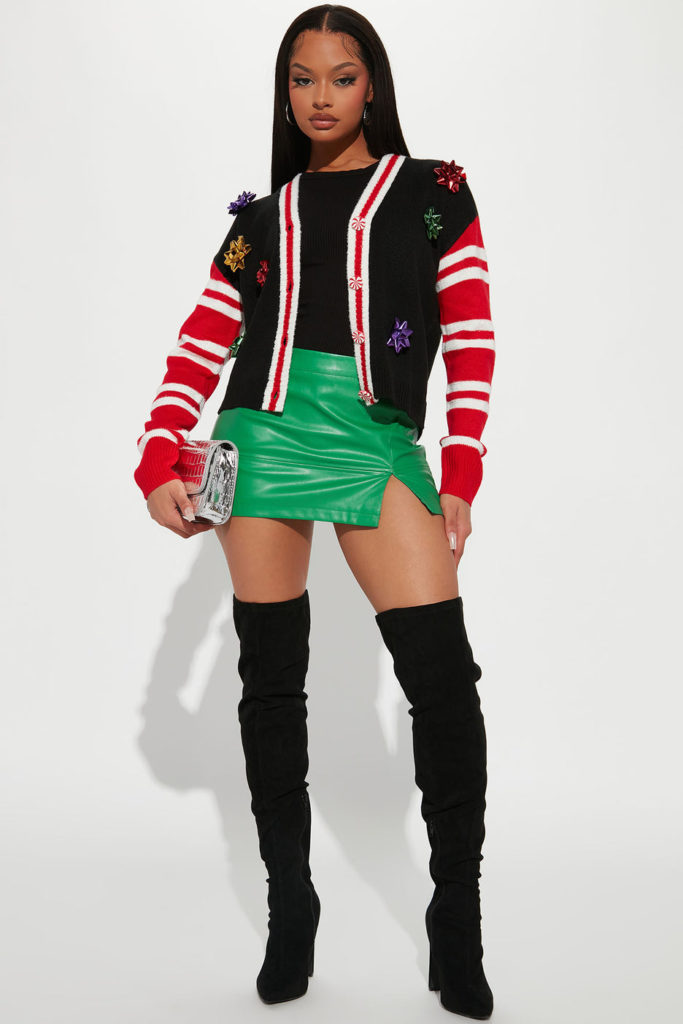 This is not an "ugly" Christmas sweater; rather, it is a festive cardigan with 3D bows, candy-striped sleeves, and candy cane buttons that will make you the center of attention this holiday season.
Wear it with a green fake leather mini skirt and over-the-knee boots for a stylish Christmas ensemble. This look is particularly suitable for a holiday party or a night out with your buddies.
Glamorous & Chic Red Satin Suit For Christmas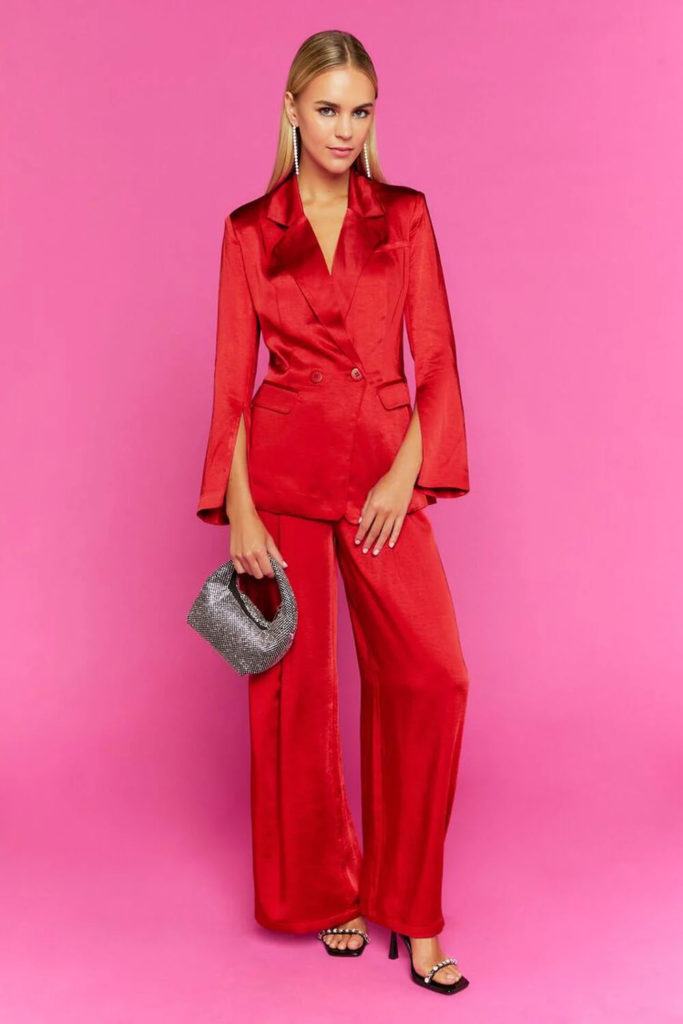 If you dress up for Christmas in this red satin suit with wide-leg pants and a split-sleeve blazer, you'll definitely be the most fashionable person there. Make sure to accessorize with shoes and a striking bag.
Wonderful Sequin Mini Dress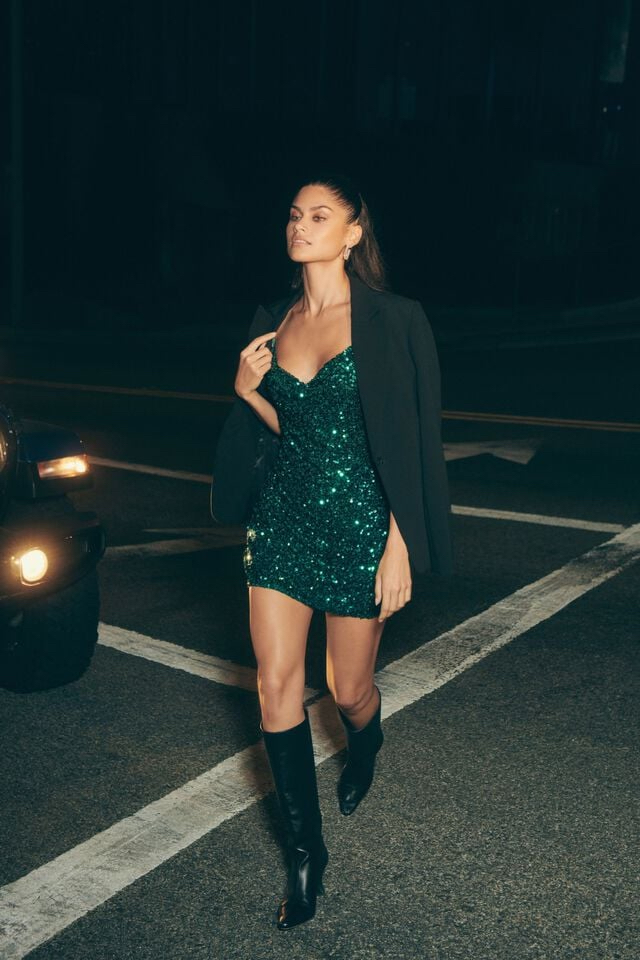 When wearing this stunning green sequin mini dress to a holiday party, you'll be the envy of the Christmas tree.
For an on-trend style, I adore the thought of wearing it with an oversized black blazer and knee-high boots.
What do you think of our list of Christmas outfit ideas?
Would you dress like this for the holidays? Which style do you prefer? Please tell us in a comment!
READ: Presented by Shea Moisture: The Bomb Fashion Show Recap
Source: collegefashion.net