The Official Return of Uggs and How to Style Them in 2023
This post will demonstrate how to style and wear your Uggs in 2023
ICYMI, Uggs are big-time back.
Shearling boots, which had fallen out of favor in favor of edgier boot trends, have made a huge resurgence in recent years, and in especially in 2020, comfortable styles have taken over our life. Uggs remained a mainstay in our wardrobes even after we all began going outside again because, after all, why should we give up these indubitably comfortable shoes just because we aren't cooped up at home any longer?
Elsa Hosk, Keke Palmer, Kendall Jenner, and Kaia Gerber, among many others, have all been spotted rocking their Ugg boots and slippers with incredibly trendy clothes, demonstrating that you can combine comfort with elegance.
And during the fall and winter, it's difficult to go through TikTok without running into a "that girl" video using the Classic Ultra Mini Uggs! They are a go-to pair of shoes that are great for going about your daily business, going to school, hanging out with friends, and everything in between—including posting stylish #OOTD photos.
I doubt that you need me to persuade you of the importance of Uggs in today's world, though. Instead, I'll provide you 10+ stylish outfit suggestions that you may wear with Uggs so that you have lots of new styling ideas for your Uggs in 2023.
You'll be covered with whichever style(s) you possess thanks to these outfits, which feature the hottest Ugg styles of the season, including the Classic Ultra Mini Boots, Classic Ultra Mini Platform Boots, and the Tazz slippers.
Without further ado, continue reading to learn how to wear Uggs in 2023 and be ready to appear incredibly trendy while feeling incredibly comfy.
Ugg Classic Ultra Mini Boots with a Cute Outfit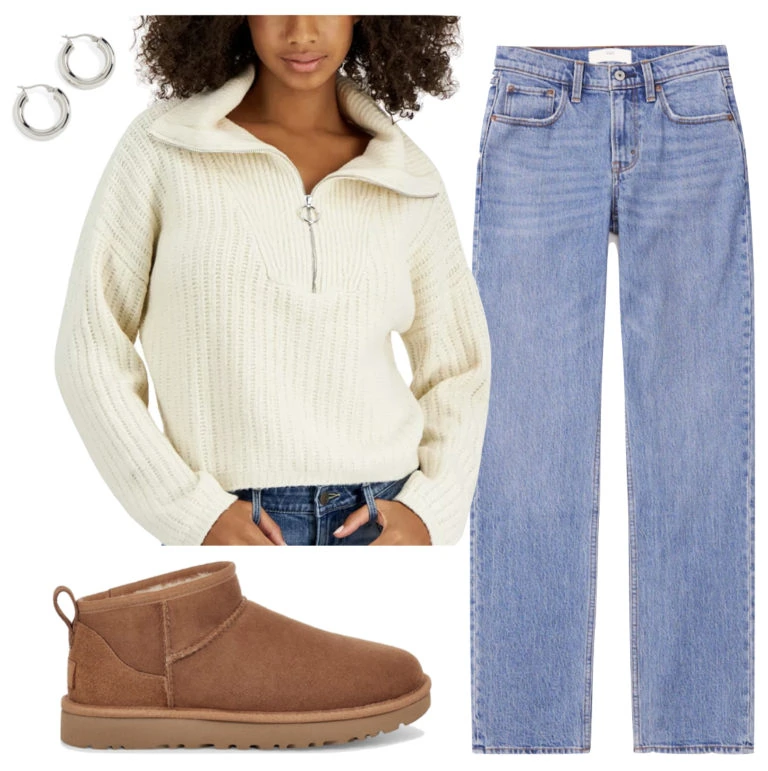 Possibly the sexiest pair of Uggs in 2023? The highly sought-after and frequently difficult to locate in stock Ugg Classic Ultra Mini Boots are virtually usually sold out!
If you were fortunate enough to obtain this popular pair of Uggs, you are aware of how well-suited they are for pairing with jeans, particularly baggy and straight-leg types, due to the extremely short shaft height.
Wear your Ugg Classic Ultra Mini Boots with a slouchy pullover and a pair of mid-rise, straight-leg jeans for a lovely, put-together look. The current fashion craze for funnel-neck sweaters with zippers is evident in this cream sweater, which is warm and fashionable.
Since the sweater's zipper is silver, I chose a pair of silver hoops to match (is anyone else weirdly fussy about matching their metals like I am?) to instantly enhance any ensemble and make it look that much more put-together.
Wearing athletic wear and Ugg Classic Ultra Mini Boots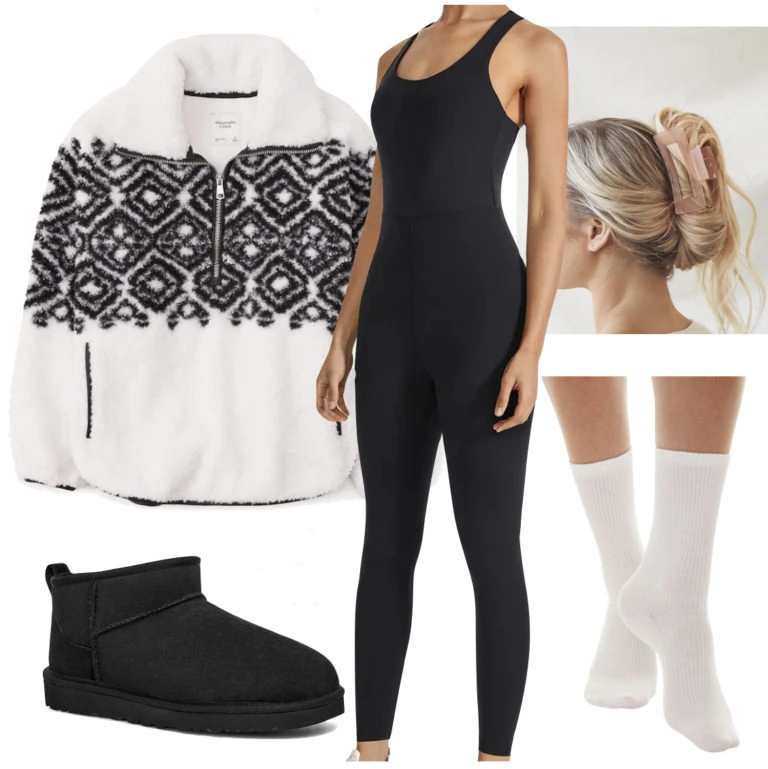 Athleisure outfits are one of the nicest and coziest ways to wear your Uggs. What outfit goes better together than leggings and Uggs? It has always been the standard.
Change your leggings for a onesie if you want to take it up a notch for 2023 and seem very trendy. Because you won't have to bother about choosing a shirt, getting dressed in this sleeveless jumpsuit is like donning full-body leggings. It really is over after that!
You can layer a sweatshirt, bolero, or sherpa pullover on top to be warm since it is winter. I adore the fashionable half-zip and fuzzy sherpa pullover with a black and white print; it looks just as warm and inviting as the Ugg Classic Ultra Mini Boots.
Wearing a pair of crew socks over your leggings or onesie and your Uggs is the key to pulling off the athleisure look. You may get the look favored by models off-duty like Kendall Jenner and Kaia Gerber, who frequently wear their Uggs in this fashion, with the help of this white pair of ribbed crew socks.
Remember to wear a hair claw clip—as it's useful as it is adorable.
Wearing a school uniform with Ugg Classic Ultra Mini Boots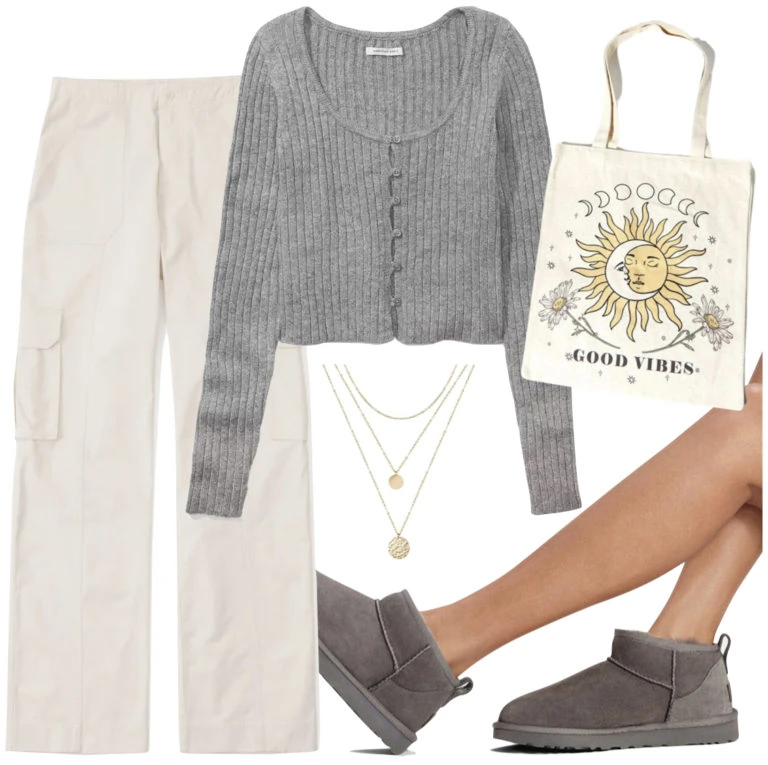 When you are running behind schedule for your 8 a.m. lesson and need to leave as soon as possible, Uggs are among the greatest shoe selections for school.
Of course, you may wear any of these clothing suggestions to class, but this particular ensemble would be ideal (8 a.m. class or not).
These relaxed-fit twill cargo trousers would look beautiful with a pair of Ugg Classic Ultra Mini Boots for a casual look. Cargo pants are a significant trend right now.
This rib knit gray cardigan with buttons on the front may be worn alone or over other tops, so match it with the gray Uggs. The shorter length of this cardigan complements the high rise of the cargo trousers nicely.
Use a striking graphic print tote bag to transport your books and other school supplies; this bag encourages "Good Vibes" and coordinates with the outfit's muted color scheme.
Your appearance will be enhanced with a delicate, layered gold necklace, which also gives the outfit the ideal amount of shine.
Ugg Classic Ultra Mini Boots in Casual Chic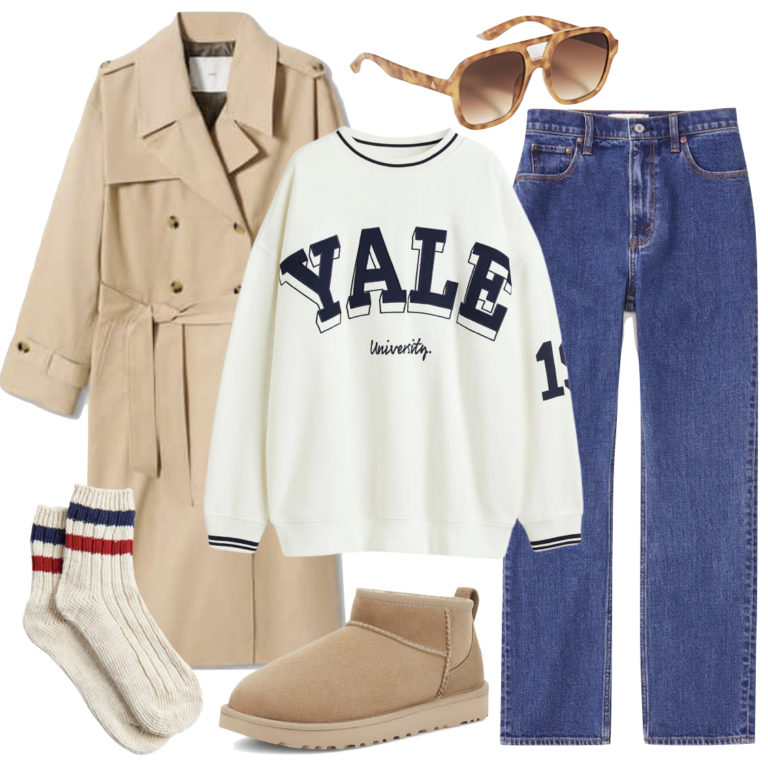 By pairing your Ugg Classic Ultra Mini Boots with a trench coat, you can unleash your inner fashion influencer. This surprising mix strikes the right balance between comfort and style for 2023.
This outfit is a terrific approach to accessorize your college wardrobe in a unique way. When worn with a vintage trench coat and some dark wash straight-leg ankle jeans, your printed college sweatshirt looks more put-together. You may either wear your Ultra Mini Uggs by themselves because the jeans end at the ankle or add some collegiate-striped thick knit socks for extra style (and warmth).
Add some brown tortoise aviator sunglasses to the appearance to give it a vintage feel that goes perfectly with the trench.
Ugg Classic Ultra Mini Platform Boots with a Cute Outfit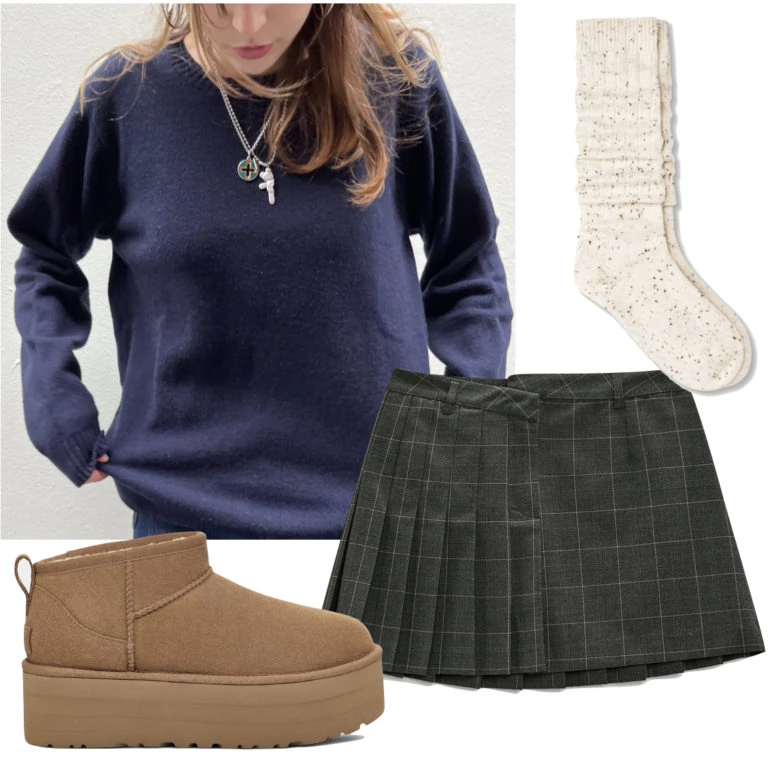 The Ugg Classic Ultra Mini Platform Boot is another must-have Ugg design for 2023. In case you needed further evidence of the boots' trend appeal, they have been seen on celebrities like Keke Palmer, Gigi Hadid, and Bella Hadid. These boots stand out and have a throwback feel thanks to their platform (slash flatform) heel.
Be stylish like Bella by dressing up your platform. Uggs with thick, ribbed crew socks that resemble leg warmers.
These go particularly well with a preppy-inspired ensemble that includes a slouchy, oversized wool-blend crewneck sweater and a plaid box pleat mini skirt with a contemporary asymmetric belt.
You may wear this dress to the Met stairs and blend in with the cast of HBO's Gossip Girl by adding some stylish jewelry.
Fashionable ensemble and Ugg Tazz Platform Slippers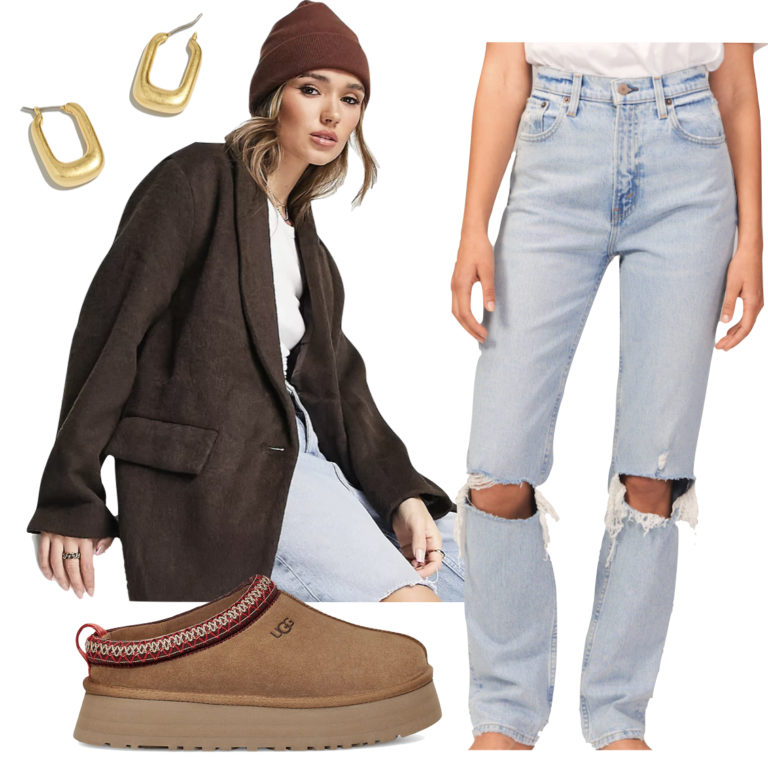 Elsa Hosk, a supermodel and one of my biggest style icons, revolutionized the fashion industry when she stepped out in the Ugg Tazz Platform Slippers with an oversized blazer and white denim. Slippers became suddenly not only acceptable to wear outside of the house, but also extremely stylish. This was only made clearer by Gigi Hadid, who during Paris Fashion Week alternated between wearing the same slippers with baggy jeans, sweats, and other outfits.
Therefore, for a super-trendy and supermodel-approved look, wear your Ugg slippers outside of your home or dorm room.
A fashion-forward look is produced by the juxtaposition of a structured, oversized blazer with the informal slippers and some loose-fitting, '90s-inspired trousers. You may wear this outfit with any type of t-shirt, including those with graphic prints and slouchy sweaters. Just be sure to finish it off with some modern jewelry, like a set of gold carabiner hoop earrings.
Stylish attire using Ugg Classic Mini II boots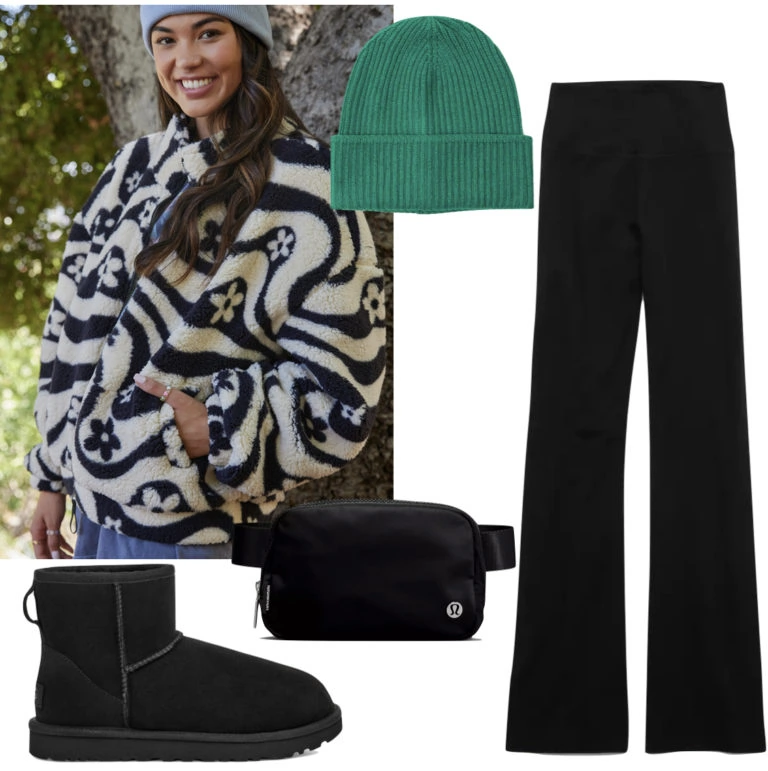 There were Ugg Minis before there were Ugg Ultra Minis. These are still a fantastic alternative for a short boot and, in all honesty, will keep your ankles warmer than the Ultra Minis will.
Like Uggs, flared leggings have made a resurgence, and the two look amazing combined for the ultimate warm vibe.
Put on a colorful, printed sherpa zip-up jacket to add personality to your look while keeping you warm. Due to the black and white color scheme of this sherpa, add some color with a vibrant beanie hat, such this green ribbed knit beanie.
A belt bag, such as Lululemon's "Everywhere" bag, complements this outfit's casual vibe while also being quite useful while you're on the run (it's a Hot Girl Walk need).
Wearing loungewear and Ugg Classic Mini II boots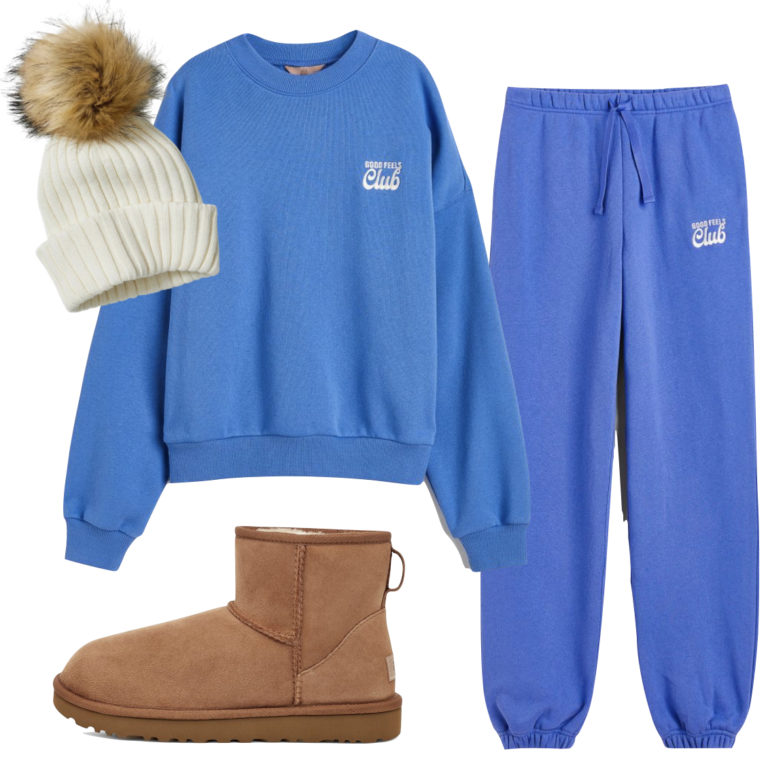 It makes sense to pair loungewear with Ugg boots, but there's no reason you can't still look nice and put together in your sweatpants!
To go with your Ugg Classic Mini II Boots, choose a matching sweatsuit combination that includes a hoodie and matched sweatpants. This "Good Feels Club" embroidered crewneck and joggers have a vibrant blue color that I enjoy; it totally uplifts my attitude (even in the dreary wintertime). Your Uggs and this ensemble will keep you warm and cozy.
For added warmth (and attractiveness), round off the look with a knit beanie hat like this ribbed faux fur pom beanie hat.
Wearing a snowsuit and Ugg Sunburst Mini Boots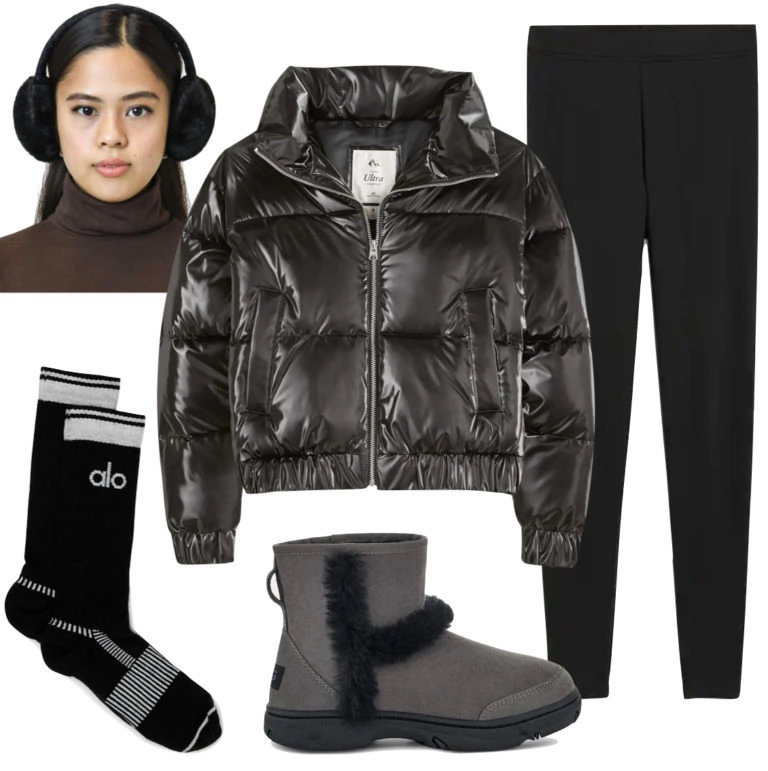 Looking for a nice clothing to wear outside when it snows? I would suggest Ugg's waterproof Adirondack III Boots or, for milder winter weather, the Sunburst Mini Boots. These boots are far more durable than your typical Uggs, even though they aren't waterproof. They also have a thicker rubber outsole that offers more traction.
Warm up with some fleece-lined leggings and a fashionable puffer jacket like this one, which has a short length and high-shine fabric. It contains fleece-lined pockets to keep your hands toasty if you've forgotten your gloves and is wind- and water-resistant.
Despite the sheepskin lining in these boots, you can keep your feet extra warm by wearing a pair of wool-tech crew socks. Additionally, since wearing high socks with Uggs will be entirely in style in 2023, these socks will give the outfit more trend appeal.
Put on some lovely fake fur earmuffs to add one more touch of fashion. They will keep your ears toasty.
Ugg Highland Hi Heritage Lace-Up Boots with a Winter Outfit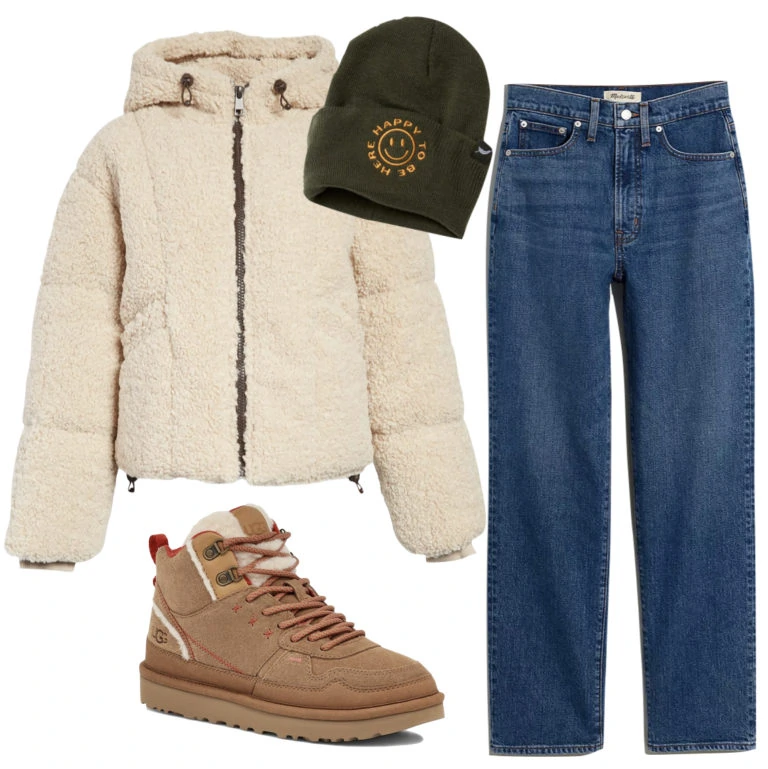 The Highland Hi Heritage Sneaker, which resembles a lace-up hiker boot but with a lightweight sole and a sporty, winterized feel, is another fantastic wintertime option from Ugg.
Get cozy in a high-pile fleece puffer jacket that has a similar appearance to Ugg's recognizable sheepskin for a coordinated style that is also incredibly trendy. For a fashionable look, include shearling and sherpa details into your winter clothing this season's key trends.
Dark wash straight-leg jeans and a fun beanie hat—this one is olive green and embroidered with the words "Happy To Be Here" and a smiley face—complete the look.
More Outfit Ideas for Uggs
Do you need additional outfit ideas for styling your Ugg boots? To see additional ways to style your Uggs in 2023, check out of of our favorite ensembles from fashion icons.
With a Biker Jacket
By pairing your Ugg Ultra Mini Boots with a moto jacket, as @pheebslfashion did, you can give them an edgy look.
She added a boxy faux leather moto jacket, Ultra Mini Uggs, and high crew socks to her basic black leggings and gray zip-up hoodie to turn it into a full *lewk*. In order to dress up her casual ensemble, Pheobe also added fashionable accessories including chic sunglasses and a luxury handbag.
Wearing Ugg with a Vest
Wear a sherpa vest in the moto-style with your Uggs for a warm and stylish appearance. In order to show off her platform slippers, of course, Molly-Mae Hague paired her Ugg Tazz slippers with an oversized sherpa moto vest, a cream-colored hoodie, and loose-fitting jeans with slits at the hems. Suddenly, sweatpants and jeans are more fashionable than ever.
With A Shearling Jacket
This season, aviator jackets—leather or suede jackets with shearling or sherpa inside and moto details—have become a major fashion and go great with Uggs.
Follow @victoriaquitzau's lead and style your Uggs with rigid straight-leg jeans, a brown aviator jacket, and a knit beanie hat for a warm-meets-chic combination.
Wear it With Camouflage Pants
One of the most unexpected fashion trends of 2022, camouflage trousers are still a key player for 2023, especially when worn with Ugg boots.
Influencer @eliannaarvizu created a cool street style-aesthetic ensemble by pairing her classic Ugg boots with some oversized camo leggings, a plain white t-shirt, and an enormous leather jacket. Her fashionable look was further enhanced by her stacked necklaces and dark sunglasses.
Ugg With Flared Jeans
Yes, flared jeans look fantastic when worn with high heels and ankle boots, but what kind of shoes do you wear them with during the day?
Enter the platform boots from Ugg.
They'll give you the lift you need to wear your flares during the day without "real" heels thanks to their pumped-up platform heel (since other shoe options like sneakers are too flat and will have your flares dragging on the ground).
Influencer @emeliefeola styled her platform Uggs with loose-fitting flared jeans, a plain white crop top, and a fake sherpa aviator jacket to make the most of their heel (plus Apple AirPods Max, which are a fashion accessory in themselves).
Combined With Trouser Pants
I adore how trouser pants have expanded beyond office wear and into our leisure outfits. Look at @tomarthomas, who wore black trouser pants with side slits and platform Ugg Ultra Mini boots to see how trousers can be dressed-down with Uggs while still maintaining a polished appearance.
She took care to coordinate her sherpa aviator jacket with her chestnut-colored Uggs for a stylish and Instagram-worthy ensemble.
Wear it With Leg Warmers
Street style queen @ olhirst_ wore knit leg warmers with her platform Uggs, which are expected to be popular in 2023.
She demonstrated this chic pairing with a leggy ensemble that included a pleated miniskirt, a Carhartt zip-up jacket, and a crochet crossbody bag for a truly distinctive appearance.
How do you feel with our 2023 Uggs outfit guide?
Do you use Ugg boots? Which Ugg-inspired outfit do you prefer? Please tell us in a comment!