Building a More Representative Industry: Tommy Hilfiger on What It Means to Have Style Today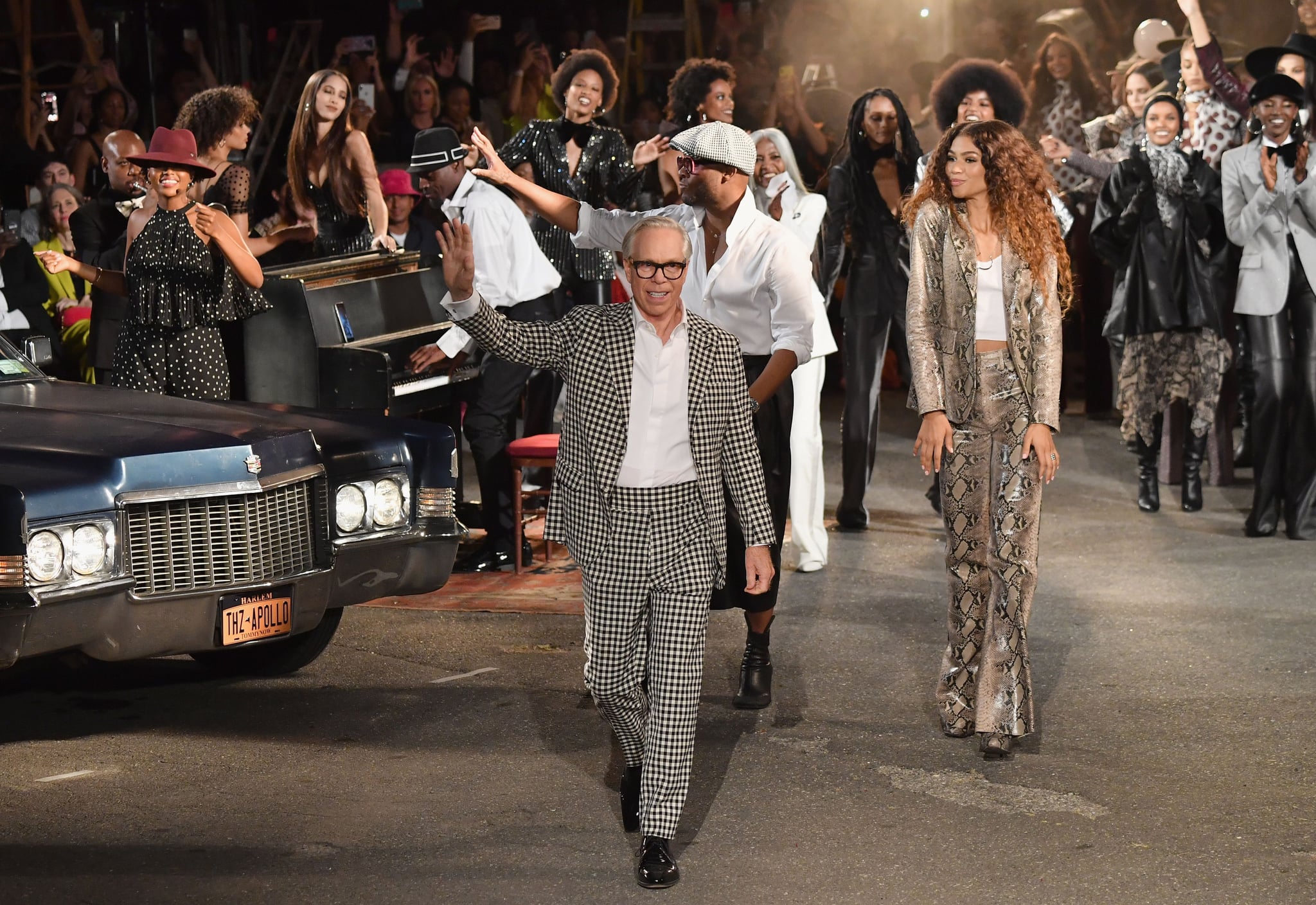 In September, Zendaya and Tommy Hilfiger closed the Tommy x Zendaya runway show.
Like many other industries, the fashion industry is undergoing a necessary (and long overdue) rewiring in the wake of COVID, racial injustice, and the Black Lives Matter movement. How does an established brand actually shake up its process and bring about long-lasting change for the future? This is a question that many brands and designers are considering. When we spoke with Tommy Hilfiger in advance of the Spring '21 Fashion Week season, where Tommy's customary grandiose runway concepts, A-lister model lineups, and all-star collaborations will be glaringly lacking, it was the question on our minds.
Instead, the designer is shifting the brand's attention to an initiative with the launch of the People's Place Program, a name Tommy borrowed from his first store, which opened in 1969 and served as a place for people to come together and experience art, music, fashion, and pop culture. This initiative addresses the industry's profound need for more representation and inclusion. In order to enhance the representation of Black, indigenous, and people of color (BIPOC) within the fashion and creative industries, the three-pillared platform promises a minimum of five million dollars in annual funding for the following three years.
The company stated in a press release that its program, which is focused on partnerships, career access, and industry leadership, "seeks to achieve consistent, long-term change," and that it will also implement a Comprehensive Action Plan to address the company's own shortcomings and shape its internal BIPOC representation going forward. We think it would be worthwhile to forego Fashion Week in order to further this aim.
Tommy is pausing and shifting his focus away from the runway, much like many of his peers, but he is still advancing innovation in other ways. Tommy Hilfiger will still be a significant topic of discussion even though the company won't be showcasing a collection this season. In this article, he provides his thoughts on the changing fashion landscape, the brand's priorities in the face of all this upheaval, and what he still finds intriguing about the industry's future.
POPSUGAR: How is our shopping behavior evolving in the absence of runway shows?
Tommy Hilfiger: As Fashion Week changes, consumers will depend more than ever on digital experiences and online buying. The passion and involvement with the audience can be just as intense in the digital space, and we have always held interactive runway events with virtual attendance. We now have the chance to create fresh, cutting-edge methods for customers to peruse our collections, shop online, and interact with our brand.
PS: What message do you want your brand to convey in the absence of FW at this time?
TH: Our company has always regarded itself as a purpose-driven brand. Everything we do is centered on our commitment to inclusivity and sustainability, and we wish to keep putting our efforts in these directions. Make It Possible and the People's Place Program, two recent initiatives that I am extremely pleased with, were introduced. We have vowed to uphold social and environmental sustainability with Make It Possible by producing clothing that "Wastes Nothing and Welcomes All." This vision and the inclusive principles of my first store, People's Place, are the foundation of our People's Place Program, which will increase the representation of Black, Indigenous, and People of Color (BIPOC) in the fashion and creative industries. Our intention with these two initiatives is to bring about significant, long-lasting change for the environment and society.
PS: In what ways has this season promoted innovation?
TH: We have a long history of promoting environmentally friendly product developments, such as low-impact denim manufacturing and water conservation, and this season, we are stepping up these efforts with our Make It Possible campaign. Our FA20 collection boasts 40% more sustainable styles as a result of our ongoing efforts to make our clothing more environmentally friendly.
PS: Given all the current industry upheavals, what aspect of fashion's future do you find most exciting?
TH: I feel empowered and inspired by the fashion industry's increased commitment to inclusivity and sustainability. The pandemic has drawn attention to the need for more social and environmental responsibility on the part of a variety of industries, including our own. Our Make It Possible Program, a ten-year initiative to develop clothing that wastes nothing and welcomes everyone, has just been started. We want to bring about better change, and I am looking forward to working with other companies in our sector to achieve this.
P.S. What does having style today mean?
TH: Consumers are deliberately selecting to support businesses with strong corporate responsibility ideals as they become more conscious of the ethics and sustainability of the clothing they purchase. Today, having style entails being assured in the clothes you buy, knowing that they not only look well but also function well.
READ: 15 Adorable Outfit Ideas for Christmas to Shine This Season