Top 15 Best Christmas Decorations for a Holiday Home with Style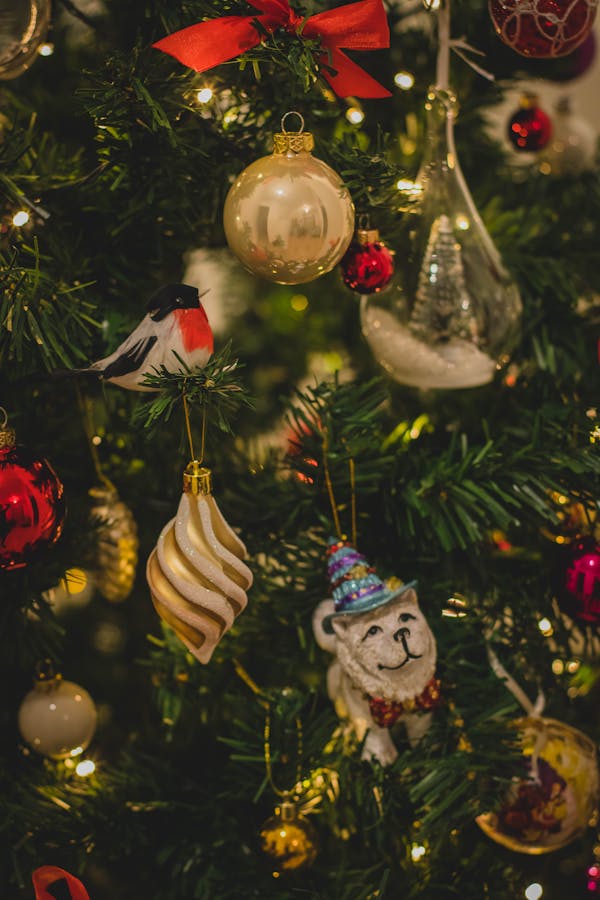 To turn your house into a Winter Wonderland, you'll need glistening string lights, lush greenery, sparkling ornaments, and vibrant Christmas ribbons, to mention just a few necessities. For the majority of us, the holiday season's delight begins far before December 25; in fact, we think it begins as soon as you start decorating. Before the Christmas tree is decorated, the stockings are hung, and the house is decorated in red and green, the holiday season isn't truly underway. We also recognize that using the same decorations from the previous year can make Christmas décor seem stale after a while. We've compiled stunning Christmas décor ideas that you can easily replicate at home to inspire creativity.
You'll get all the inspiration you need to bring happiness to every nook and cranny of your home, both inside and out, as you peruse this collection of stylish ideas. There are brilliant suggestions for beautifying your staircase, creating a stunning tablescape, and embellishing a Christmas mantel, to name a few. If you enjoy making crafts for the holidays, you might even be motivated to create your own wreath, experiment with homemade ornaments, or attempt an Advent calendar. These DIY suggestions will surely spark holiday cheer for you and your family, whether you're looking for a quick idea or a full-on joyful makeover.
It's time to embrace your other favorite Christmas customs, such as baking Christmas cookies, singing Christmas carols, and watching your favorite holiday films, now that your house seems festive.
1. DIY from Trash to Treasure Pear
Hot glue twine (we used sage green and shiny gold) all the way around an old lightbulb to give it a new life. Make the stem out of a little piece of twig, and the leaves are made by folding gold paper squares in half and cutting them into crescent shapes. When you're done, the dining room table or mantel will have lovely decor.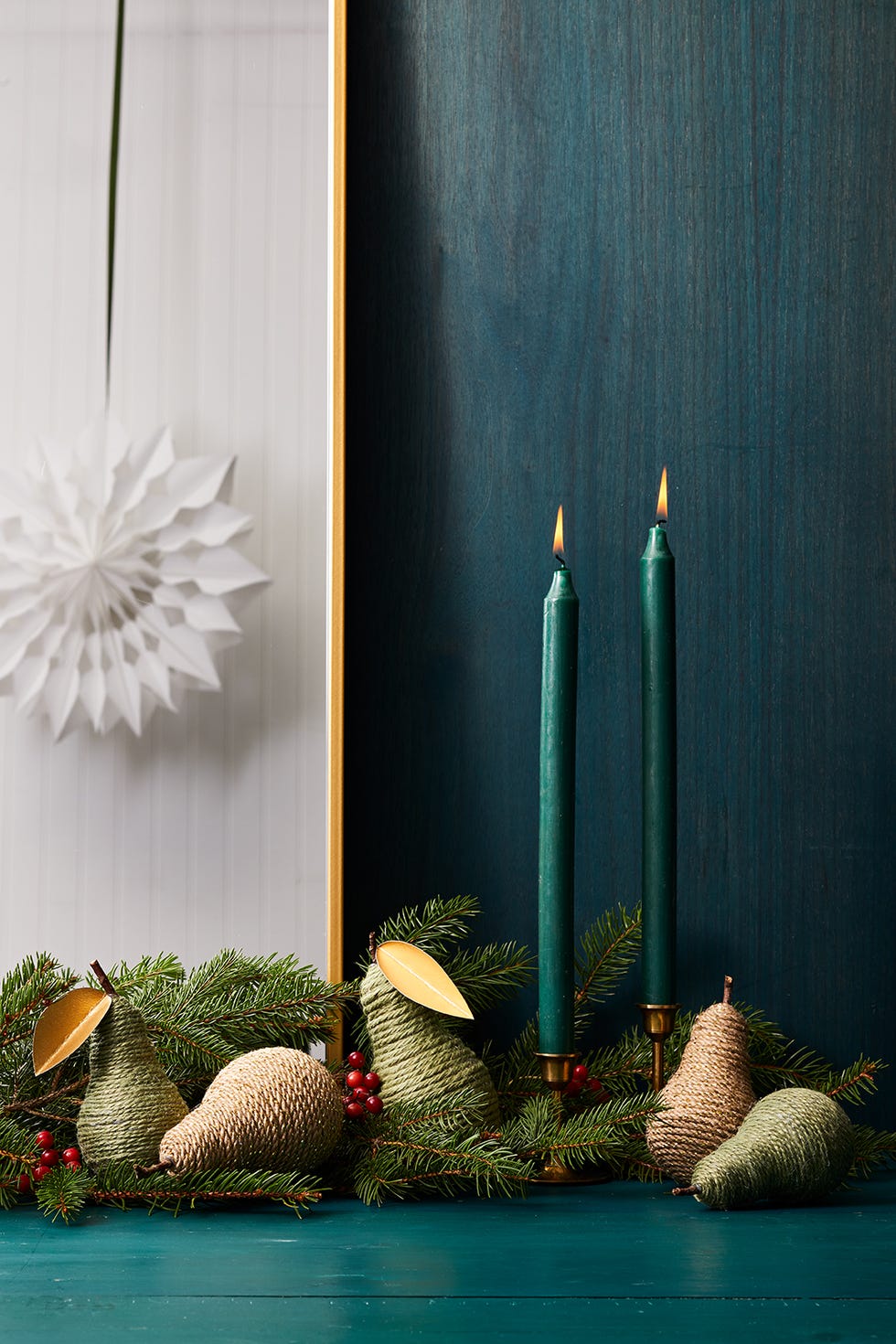 Mike Garten | GOODHOUSEKEEPING
2. Make a Wreath out of Popsicle Sticks
Begin by making a spherical foam wreath (we suggest a 12" once). Before you begin layering and hot gluing this lovely masterpiece together, paint about 50 small and 20 to 30 large popsicle sticks in three different colors of green. Add a lovely red bow to finish it off.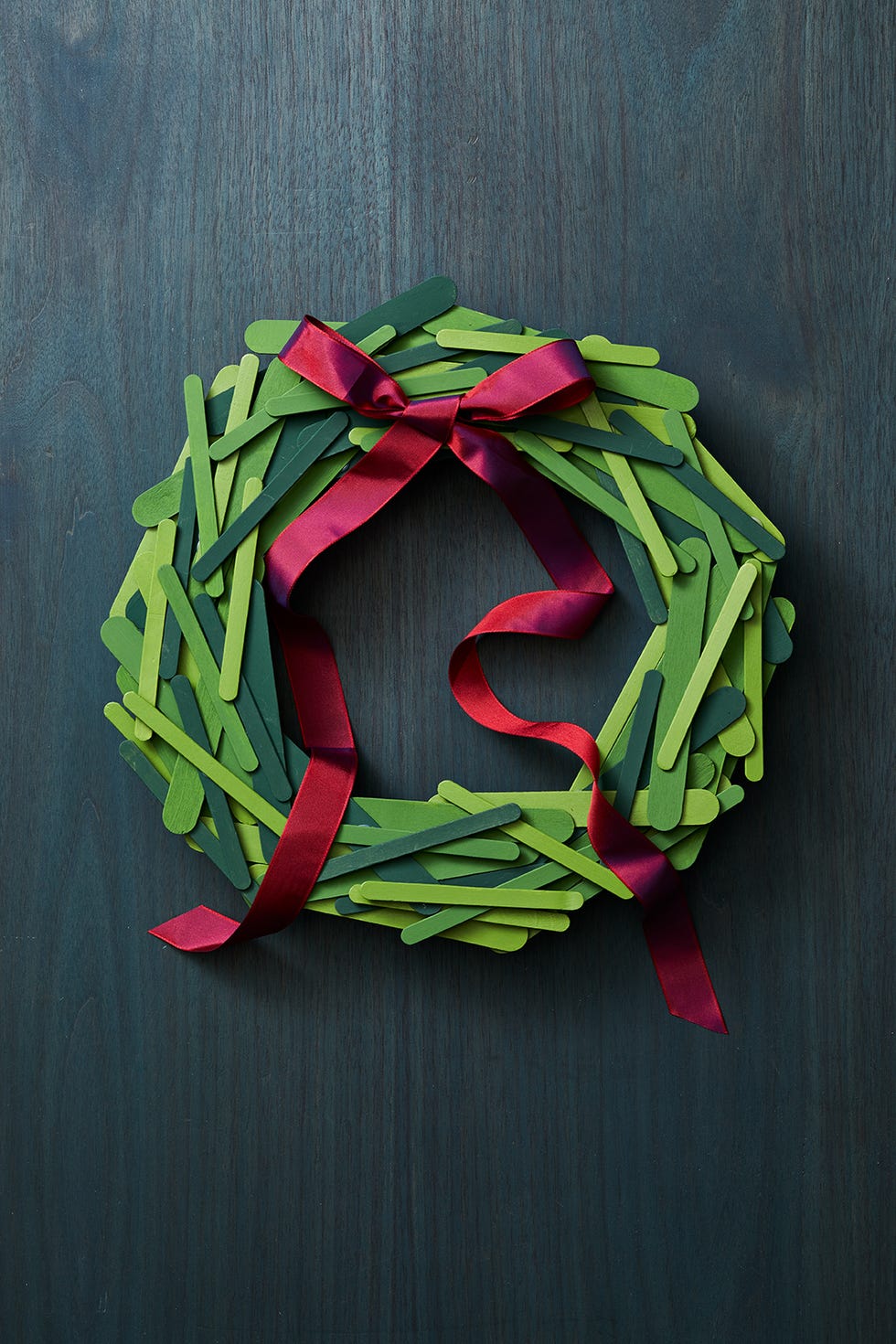 Mike Garten | GOODHOUSEKEEPING
3. Make 3D Felt Ornaments
You'll need roughly two sheets of felt for each ornament for this project, and the stiffer the better. After you've finished tracing, folding, gluing, and cutting, you can add hanging rope or decorative strings.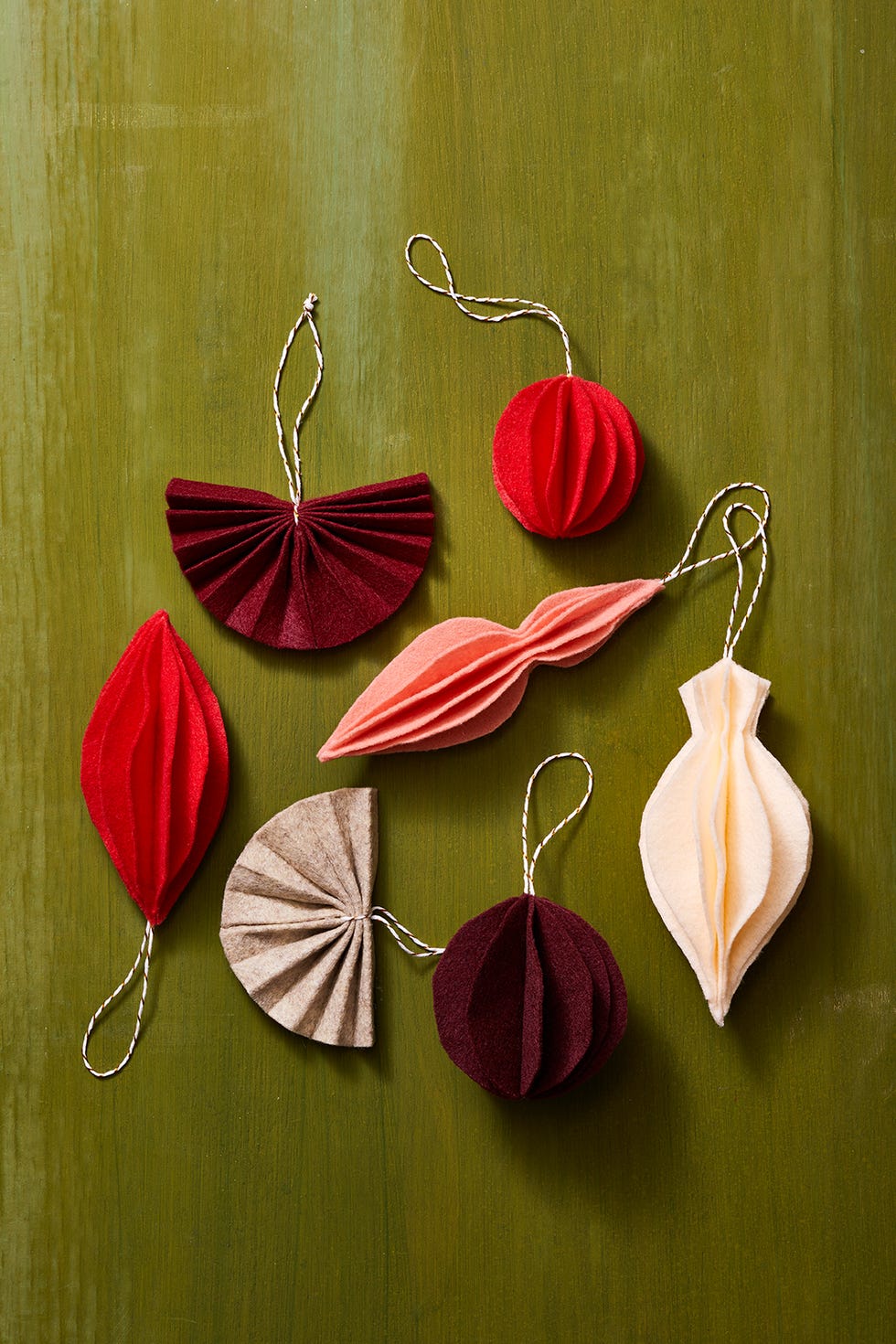 Mike Garten | GOODHOUSEKEEPING
4. Setup Christmas Tree Location
Napkins designed to resemble origami will liven up your table setting. The first step is to fold a regular 20" green napkin into the shape of a Christmas tree. Next, add ornaments, such as small ball shapes.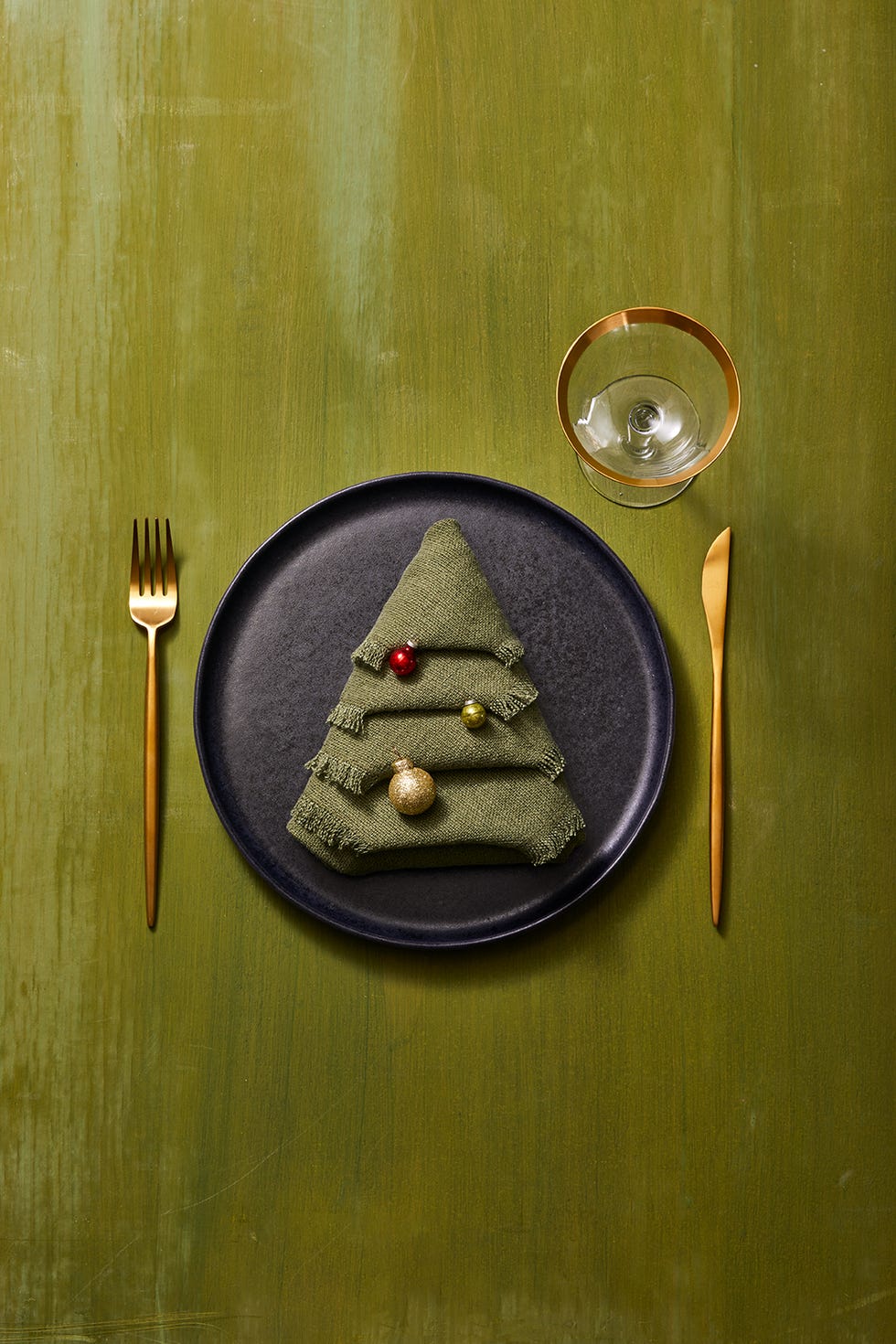 Mike Garten | GOODHOUSEKEEPING
5. Decorate a Candle Holder
Make sure you start with a clean surface before applying gold leaf to glass objects like these cylindrical candle holders. Make a basic pattern or leave it natural by applying adhesive to the surface with craft brushes. Placing a sheet of gold leaf over the area will require the adhesive to have changed from milky white to clear. After using your hands to lightly sand the surface, use circular motions with a soft-bristle brush. When you are satisfied with your pattern, add as many sheets as necessary, then let it dry. We advise putting a thin, even layer of sealant on top in a few hours.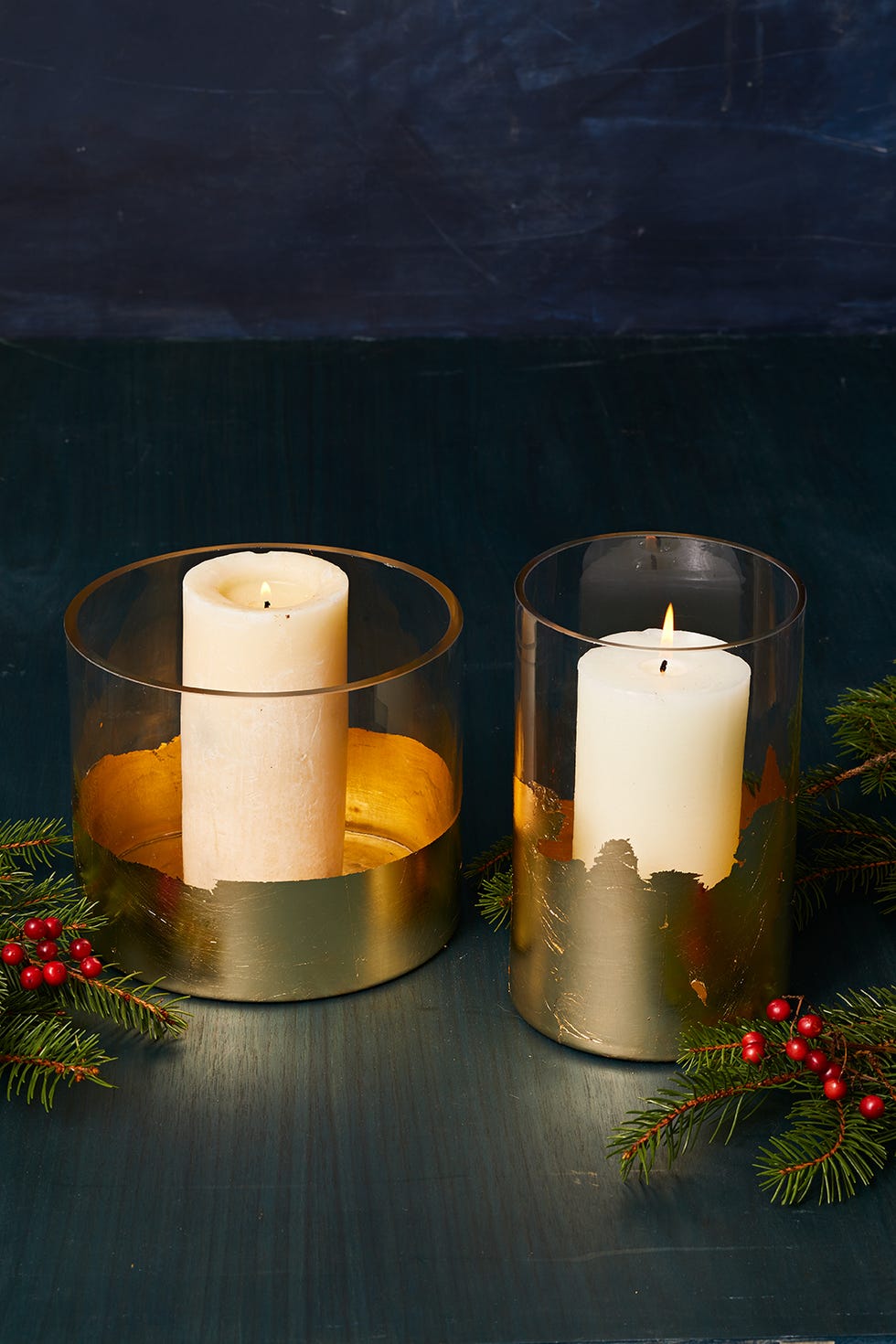 Mike Garten | GOODHOUSEKEEPING
6. Amplify Your Garland
While you're at it, embellish a mantel, a Christmas wreath, or a place setting by adding some gold leaf to real or fake dried leaves. Advice: rinse your paintbrush with water right away after applying the adhesive.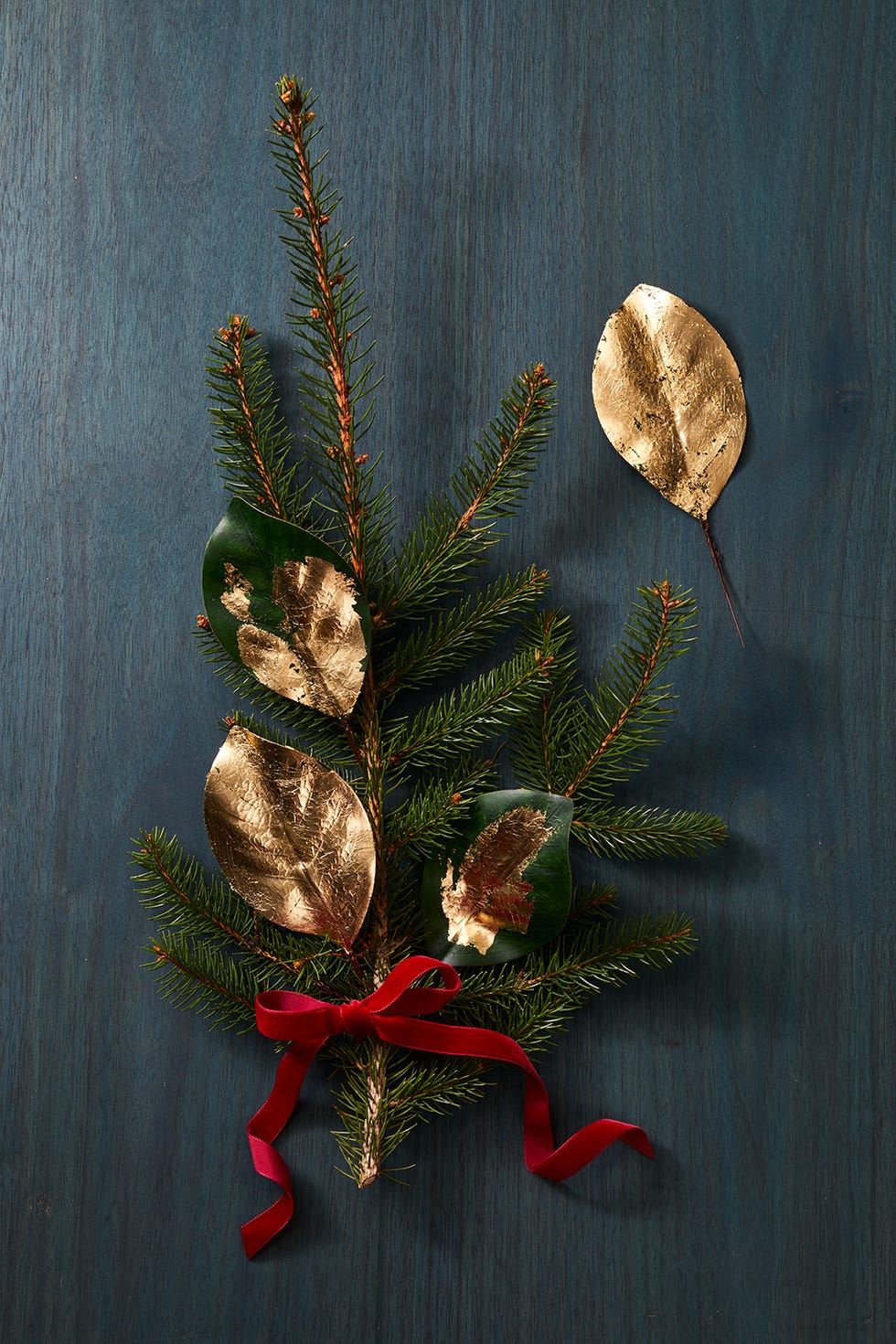 Mike Garten | GOODHOUSEKEEPING
7. Create Stained Wood Tree Ornaments
Gather your materials first: a variety of sized and shaped wooden miniature trees, green acrylic paint, a paintbrush, a cup of water, baby wipes, miniature eyeballs, screw-in hooks, and ribbon. Apply watered-down paint to the wood, wiping off any extra with a baby wipe. Once it has cured, attach a beautiful hanging loop topper and a small eye screw to the tree's top.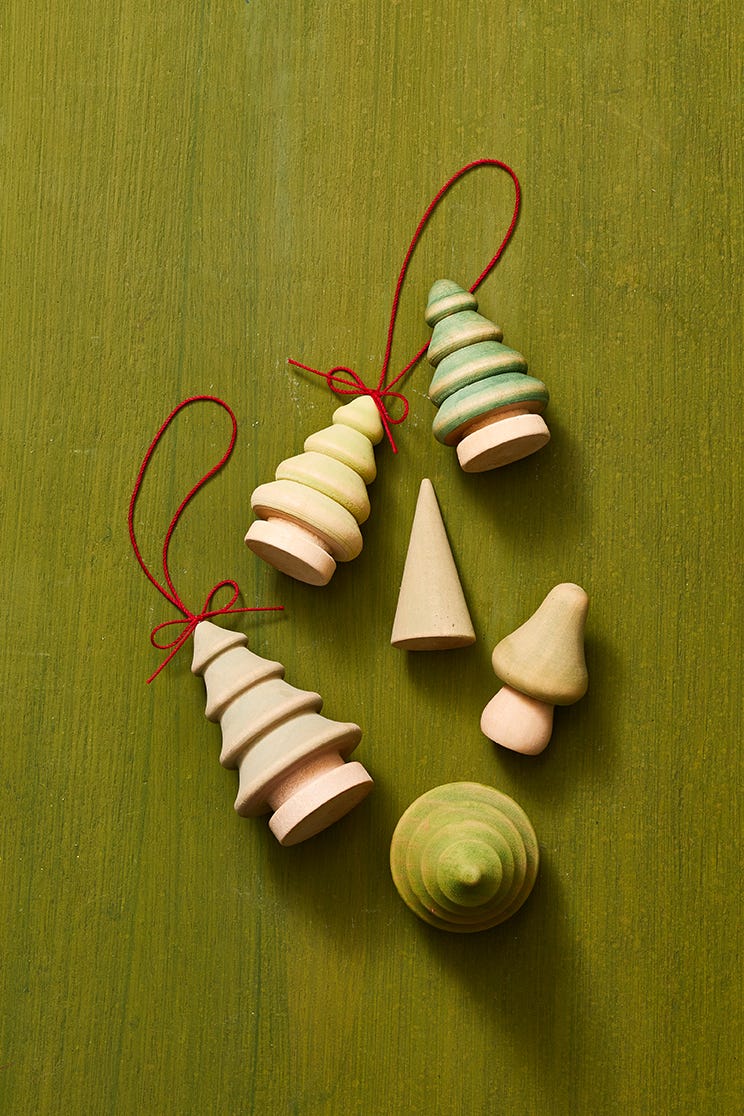 Mike Garten | GOODHOUSEKEEPING
8. DIY Your Own Snow Globe At Home
Use used glass jars to make DIY Christmas decorations! Spray paint the lid in the color of your choice, then stuff it with glitter, bottle brushes, cute animal figurines, and artificial snow. After adhering to the lid, your product is prepared for exhibition.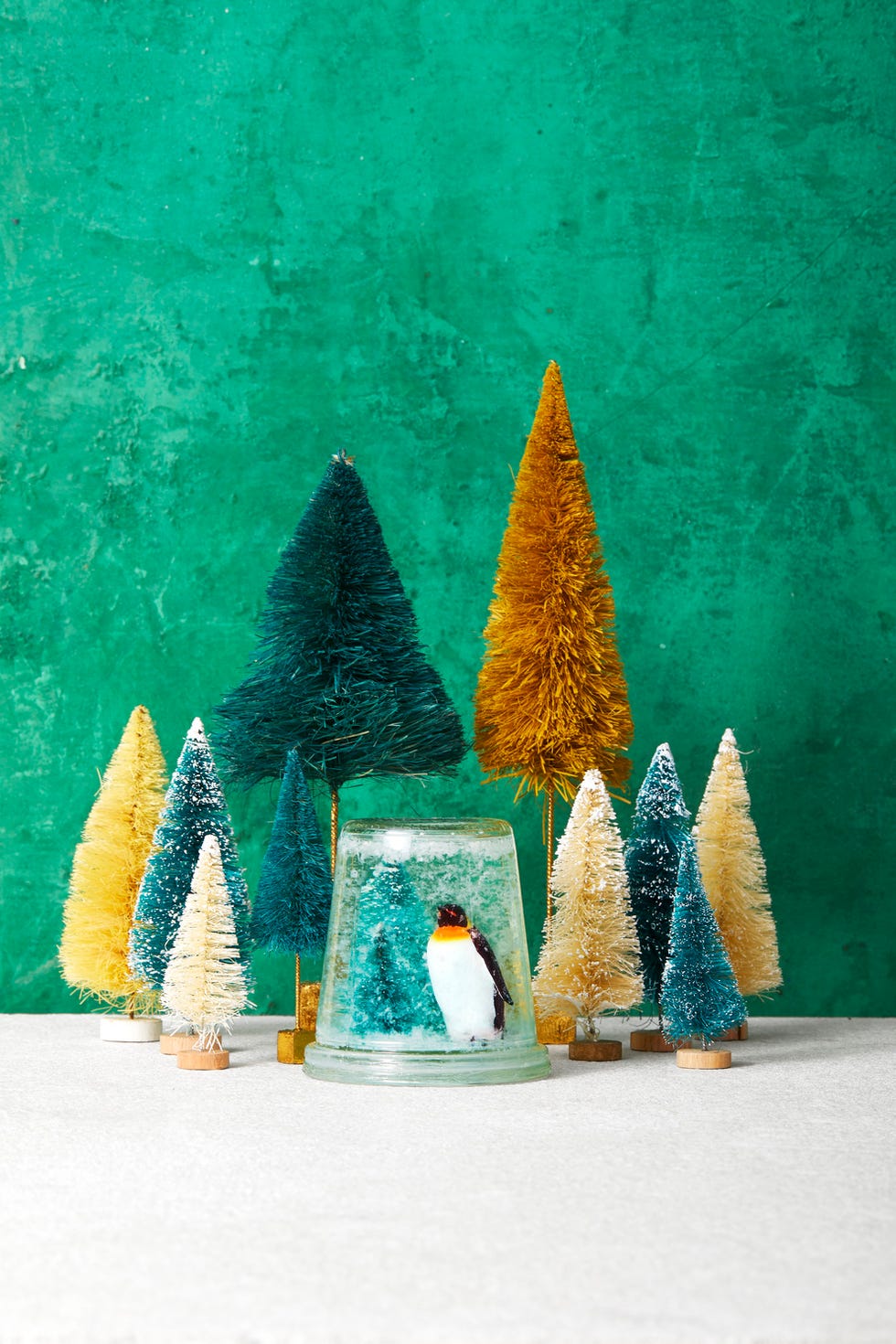 Danielle Daly | GOODHOUSEKEEPING
9. Design a Holiday Bar Cart
Put festive touches on your bar cart, such as a decorated tabletop tree, to make sure it's suitable for entertaining throughout the holidays. To give your house guests something to munch on as they pass by, add a ton of candy canes.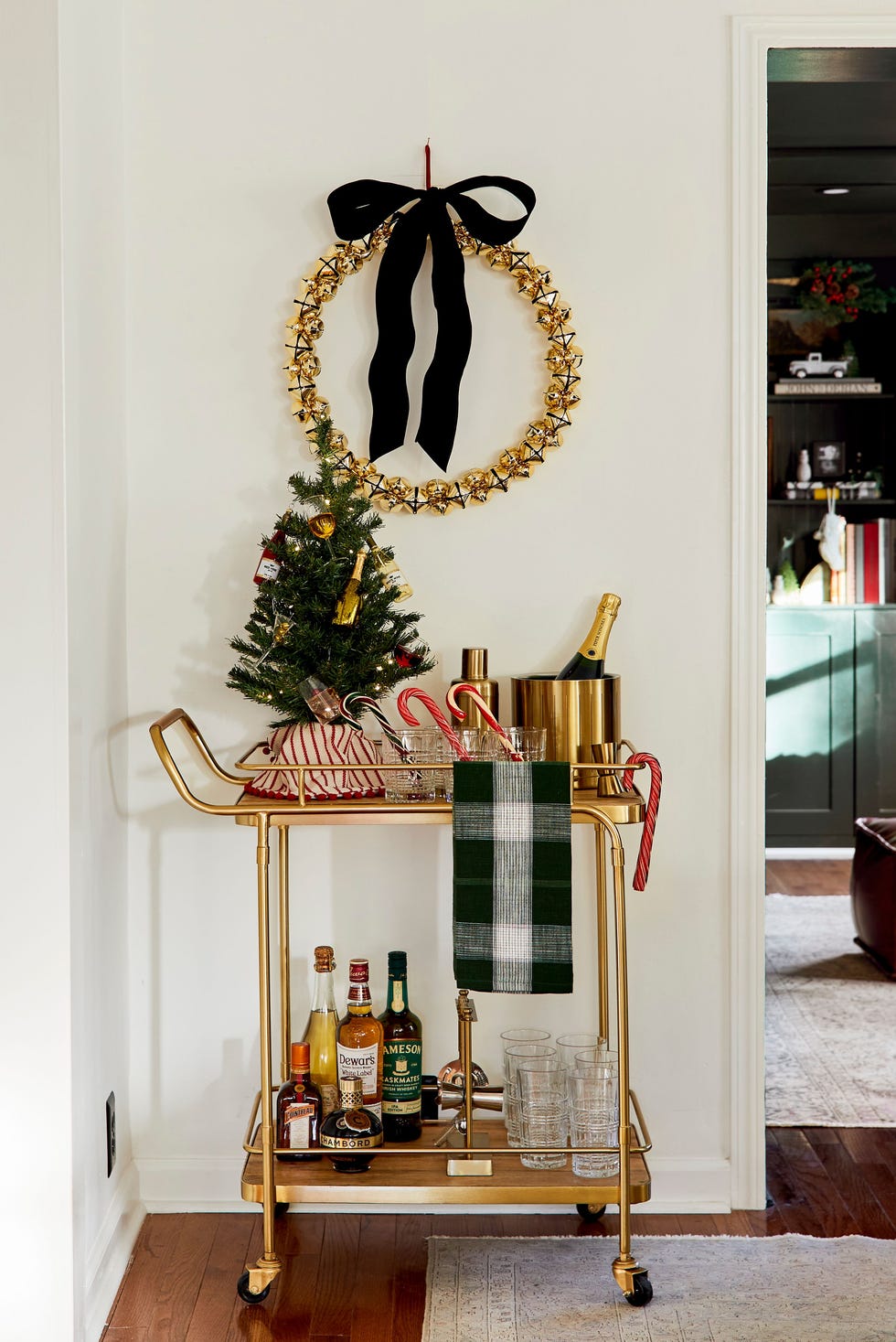 Emily Henderson Design; Photo By Sara Ligorria-Tramp
10. Round Up Retro Lamps
Go to your neighborhood flea market (or Grandma's attic!) to find a number of holiday-themed light bulbs. Then use glue to attach them to a wreath form, adding a little glitter to a couple of the bulbs along the way.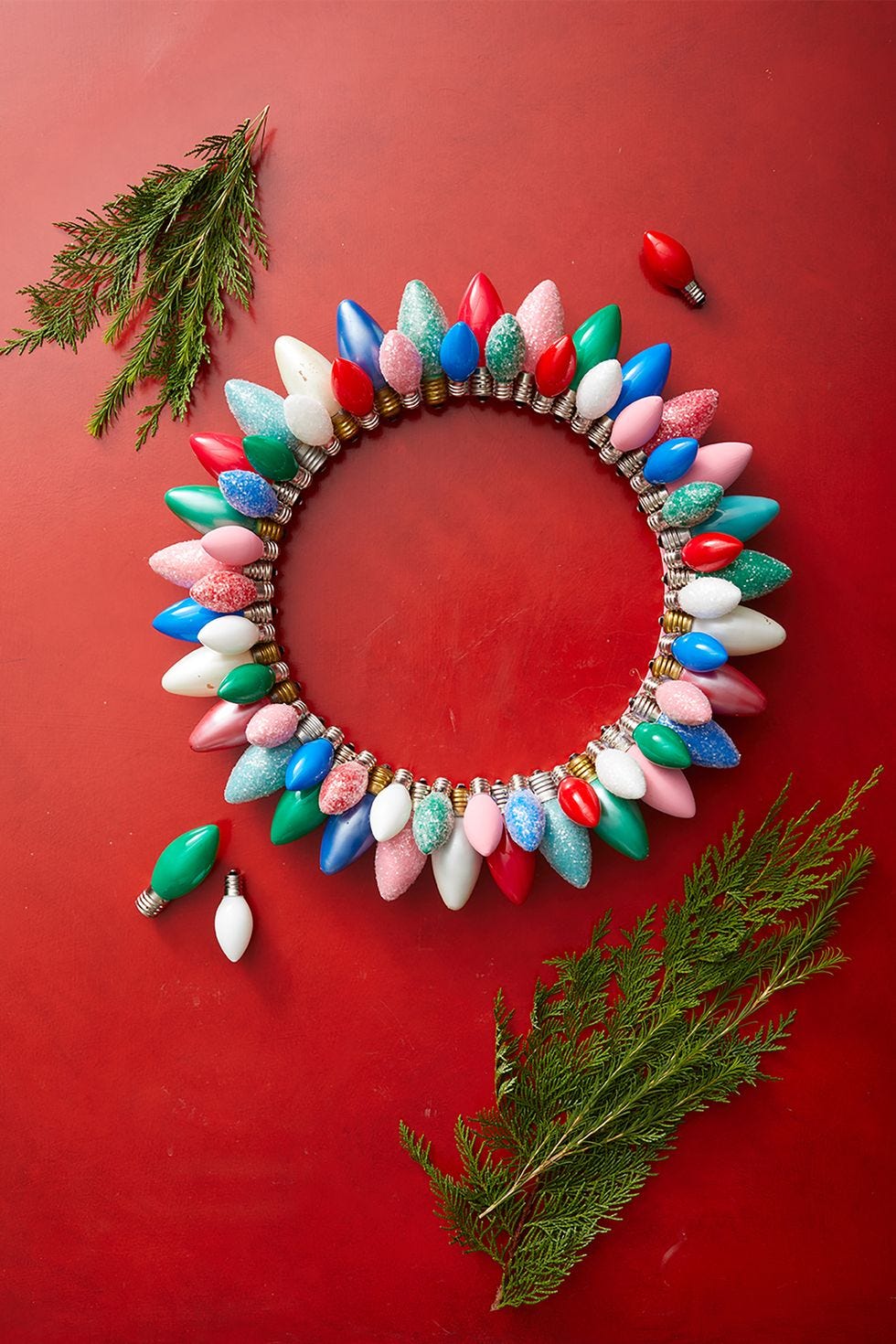 Danielle Daly | GOODHOUSEKEEPING
11. Build a Tree Forest
On your fireplace mantel, shelf, or bookcase, thoughtfully arrange bottle brushes in a range of heights, widths, and hues to create your own colorful forest.
Studio DIY

12. You Can Triple the Wreaths
Why use one wreath when three might be even more festively decorated? In order to wow your neighbors and house guests, affix three wreaths that are only green on your front door.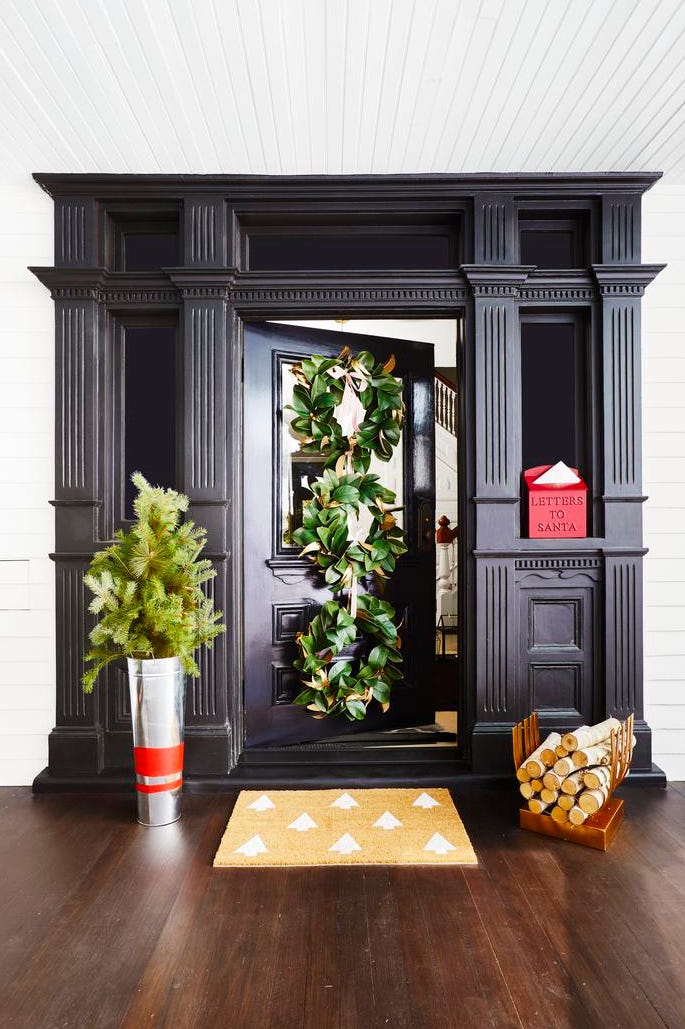 Mike Garten | GOODHOUSEKEEPING
13. Swap your Stockings for Mugs
Maybe it's time to establish a new custom: this year, store your stockings and get matching Christmas mugs for every member of your family. Fill them with tasty treats, little trinkets, or anything else that Santa usually forgets.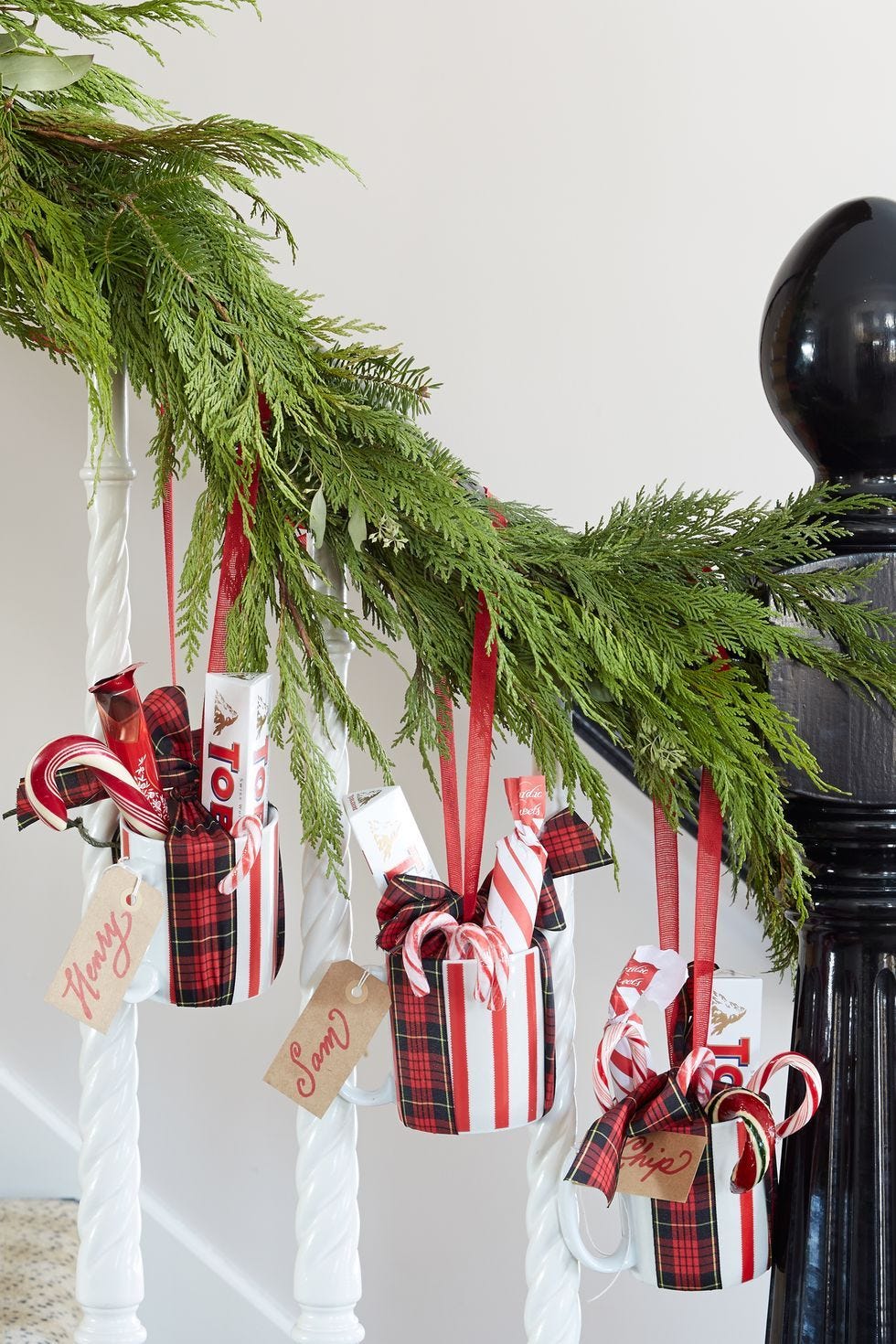 Max Kin-Bee
14. Honor Your Family Members
There's no reason you can't find a place for some ribbons on your Christmas tree, especially in light of all the occasions you bagged awards as a child. Create a fun garland by tying together a variety of vibrant ribbons.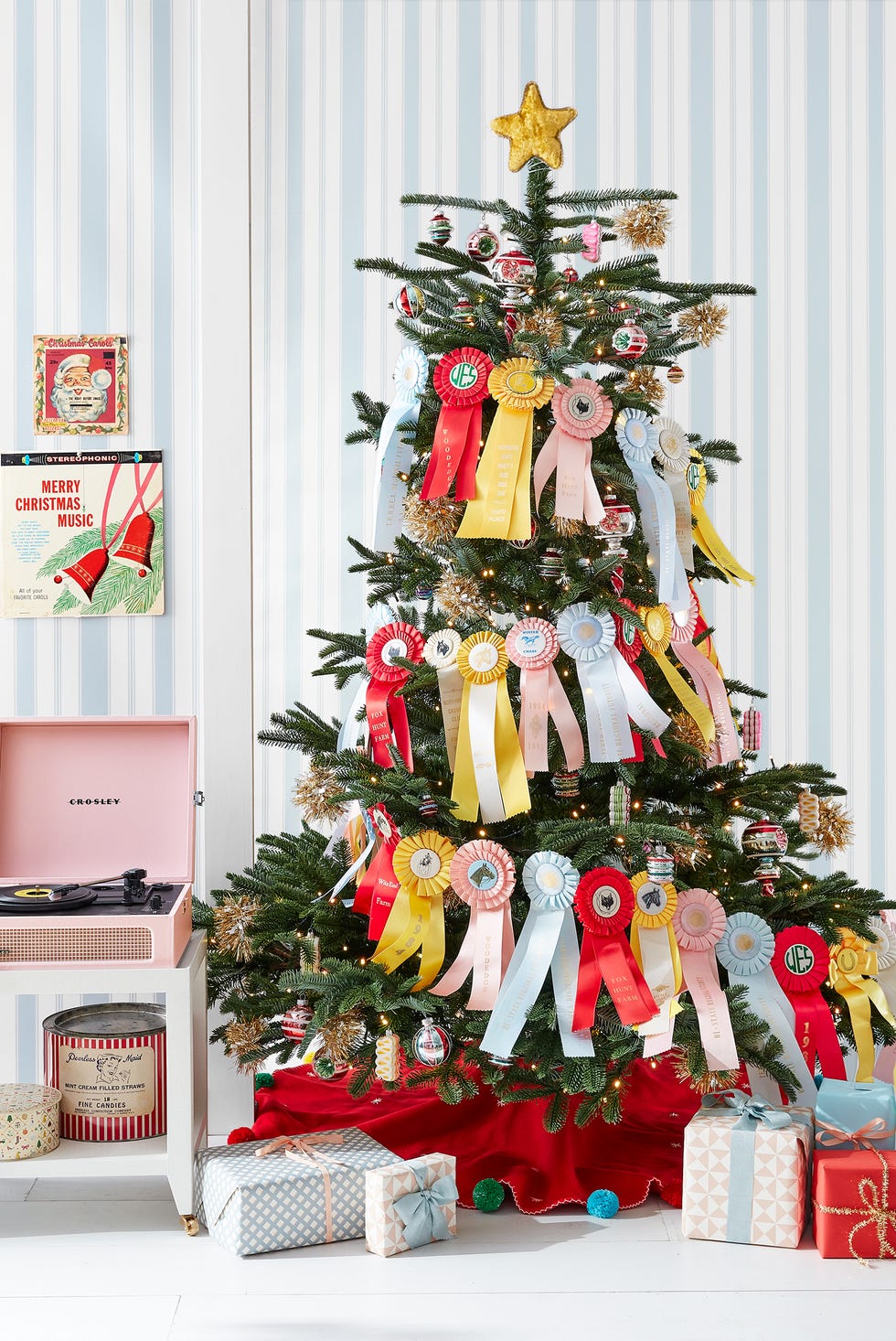 Brian Woodcock
Celebrate the Advent Season
Give the kids muslin craft bags to paint or draw on. Then, stuff the bags with gifts or assignments to do good deeds, and hang them on a wall or repurposed ladder with festive ribbons. Start the countdown now!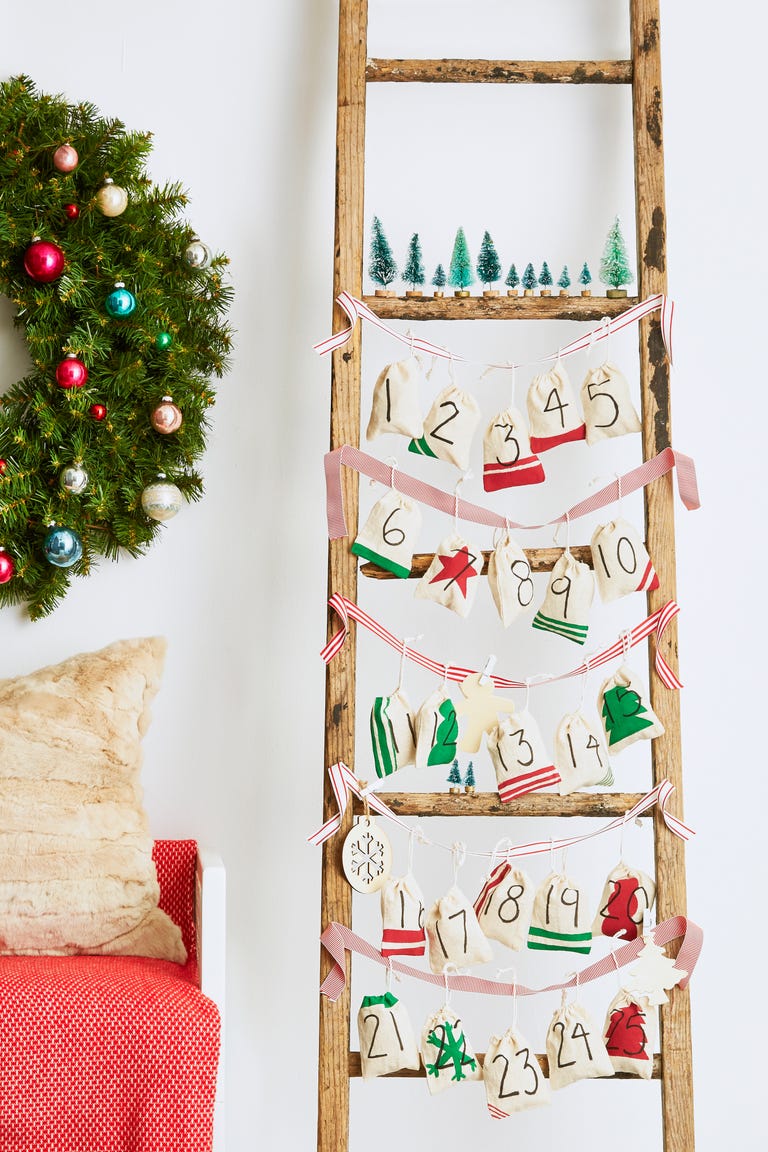 Danielle Occhiogrosso
For More Ideas: Goodhousekeeping.com
RELATED: Top 25 Ideas For Cheery Christmas Decorations